Surveillance Studies: An Overview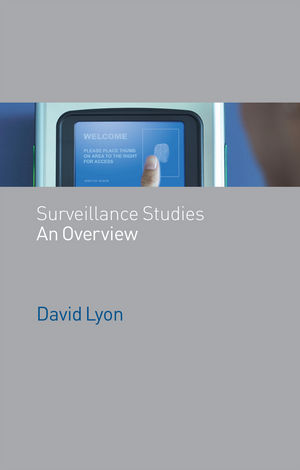 Surveillance Studies: An Overview
ISBN: 978-0-745-63591-0 July 2007 Polity 256 Pages
Description
The study of surveillance is more relevant than ever before. The fast growth of the field of surveillance studies reflects both the urgency of civil liberties and privacy questions in the war on terror era and the classical social science debates over the power of watching and classification, from Bentham to Foucault and beyond. In this overview, David Lyon, one of the pioneers of surveillance studies, fuses with aplomb classical debates and contemporary examples to provide the most accessible and up-to-date introduction to surveillance available.
The book takes in surveillance studies in all its breadth, from local face-to-face oversight through technical developments in closed-circuit TV, radio frequency identification and biometrics to global trends that integrate surveillance systems internationally. Surveillance is understood in its ambiguity, from caring to controlling, and the role of visibility of the surveilled is taken as seriously as the powers of observing, classifying and judging. The book draws on international examples and on the insights of several disciplines; sociologists, political scientists and geographers will recognize key issues from their work here, but so will people from media, culture, organization, technology and policy studies. This illustrates the diverse strands of thought and critique available, while at the same time the book makes its own distinct contribution and offers tools for evaluating both surveillance trends and the theories that explain them.
This book is the perfect introduction for anyone wanting to understand surveillance as a phenomenon and the tools for analysing it further, and will be essential reading for students and scholars alike.
Table of contents
Preface and Acknowledgments
Introduction
Part I Viewpoints
1. The Watched World Today
2. Spreading Surveillance Sites
3. Explaining Surveillance
Part II Vision
4. Information, Identification, Inventory
5. Security, Suspicion, Social Sorting
6. Bodies, Borders, Biometrics
Part III Visibility
7. Surveillance, Visibility and Popular Culture
8. Struggles over Surveillance
9. Data, Discrimination, Dignity
Glossary
Further Reading
Bibliography
Index
Reviews
"The standard by which subsequent efforts will be judged. Those eager to build upon the important existing works in these areas are well advised to start with this excellent volume."
Sociological Review
"Written by one of the most influential surveillance scholars internationally, this book provides for the first time a truly interdisciplinary introduction to the study of surveillance. Surveillance Studies not only constitutes an important entry point to critically engage with surveillance in general, it also provides ... the perfect starting point to further develop the study of surveillance as a promising and crucially important field of research."
Area
"This book represents an overview of the field, but is nevertheless original and insightful in its own right. Above all, it is written in a clear and precise manner."
Journal of the Royal Anthropological Institute
"A clearly written introduction to the subdiscipline that promises to serve as a useful criminology, sociology, or political science undergraduate textbook."
Sociology
"David Lyon's work demands our utmost respect and admiration for its scope, balance and clarity. If one were restricted to the reliance on only one text on surveillance I would suggest without hesitation to select this book."
Ursula M. Franklin, University of Toronto
"A clearly written, comprehensive and balanced introduction to the burgeoning field of surveillance studies. Definitive (or even pretty good) answers are elusive, but this book does a fine job of asking the right social scientific and moral questions."
Gary T. Marx, Massachusetts Institute of Technology
Features


The first ever textbook on the relatively new discipline of Surveillance Studies

Written by an internationally renowned scholar and a pioneer of the study of surveillance

Draws on a wide range of disciplines, including sociology, media studies, geography and politics, to outline a comprehensive introduction

Uses a host of contemporary and effective examples and at the same time gives students the tools to analyze ongoing surveillance trends

Clearly written, with pedagogical features such as end of chapter discussion points, a glossary and further reading suggestions