Surveys in International Trade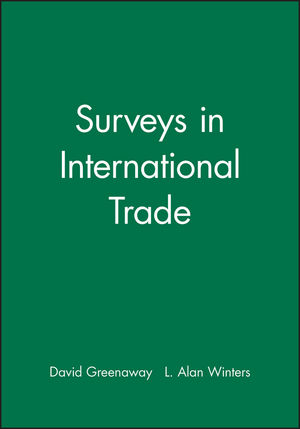 Surveys in International Trade
ISBN: 978-0-631-18589-5
May 1994, Wiley-Blackwell
352 pages
Description
A comprehensive and up-to-date overview of international trade theory, containing ten specially commissioned contributions from the world's leading authorities.
The book complements international economics textbooks and makes the more technical journal literature accessible, presenting students with a wider menu of analytical tools than other texts.
List of Figures.
List of Tables.
List of Contributors.
1. Introduction and Overview: David Greenaway and L. Alan Winters (University of Nottingham and University of Birmingham).
2. The Theory of International Trade: Rodney Falvey (Australian National University).
3. Imperfect Competition and International Trade: Alasdair Smith (University of Sussex).
4. Testing Trade Theory: Edward Leamer (University of California, Los Angeles).
5. The Theory of Protection: James Anderson (Boston College).
6. The Political Economy of Trade Policy: Stephen Magee (University of Texas at Austin).
7. Strategic Trade Policies: Didier Laussel (Université d'Aix-Marseille II and Christian Montet, University of Montpellier).
8. Trade and Development: Paul Collier and Jan Willem Gunning (University of Oxford, and Free University Amsterdam).
9. International Economic Integration: Robert Hine (University of Nottingham).
10. Services Trade: Andre Sapir and Chantal Winter (Université Libré de Bruxelles).
11. The Relationship between International Trade and International Production: John Cantwell (University of Reading).
Index.
"Up-to-date overview of the theory of international trade. Excellent fodder for debate." Book News