Survive, Exploit, Disrupt: Action Guidelines for Marketing in a Recession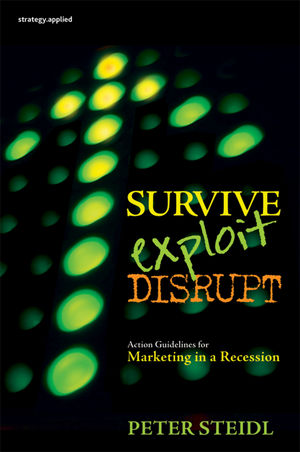 Survive, Exploit, Disrupt: Action Guidelines for Marketing in a Recession
ISBN: 978-1-118-31955-0
Jan 2012, Wrightbooks
224 pages
Description
Recessions -- there may not be anything we can do to stop them, but we have plenty of choices when it comes to our response.
During a recession too much time can be spent trying to guess what impact it may have, while too little time is spent exploring the strategic options available.
Survive, Exploit, Disrupt addresses the need for companies to shift their strategic thinking during an economic downturn. As trends change and consumer behaviour becomes less predictable, companies that triumph over economic downturn fall into three categories: survivors, exploiters and disrupters.
This book shows executives how to navigate their way through the many challenges a recession represents for their business, and capitalise on the opportunities these periods of upheaval present.

Inside you'll discover:
the drivers of change during a recession
how to adapt to recessionary periods
how to exploit growth opportunities and identify disruptive opportunities
specific actions you can take to survive a recession.
The result is a solid basis for recession-proof strategy that companies can implement to ensure that they survive the tough times.
Acknowledgements.
A philosophical introduction to a hard-edged topic.
Part I: Strategic considerations.
1 Challenges and opportunities.
2 The myth of spending your way out of a recession.
3 Survivor: aligning marketing strategies with the emerging operating environment.
4 Exploiter: strategies that deliver incremental, lumpy growth.
5 Disrupter: reinventing the business.
6 Moving into action mode.
Part II: Action guidelines.
7 Actions for survivors.
8 Actions for exploiters.
9 Actions for disrupters.
Conclusion.
Appendix: brand vision archetypes: a brand is an experience, not a set of descriptive attributes.
Recommended reading.
Index.