Sushi For Dummies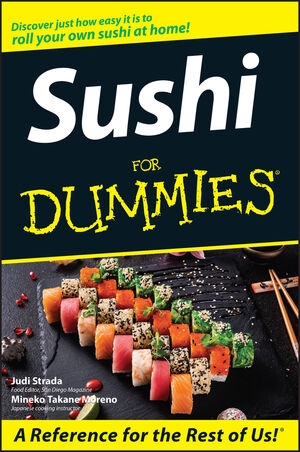 Sushi For Dummies
ISBN: 978-1-118-05337-9
Mar 2011
288 pages
Description
Demystify the sushi bar experience

Stuffed with tips and tricks - you'll roll, press, and mold sushi like a pro!

From rolling sushi properly to presenting it with pizzazz, this book has everything you need to know to impress your friends with homemade maki-sushi (rolls) and nigiri-sushi (individual pieces). You'll find over 55 recipes from Tuna Sushi Rice Balls to Rainbow Rolls, plus handy techniques to demystify the art of sushi making - and make it fun!

Discover how to:
* Find the right equipment and ingredients
* Understand the special language of sushi
* Make fragrant sushi rice
* Prepare vegetarian and fish-free recipes
* Dish up sushi-friendly drinks and side dishes
Introduction.
Part I: Discovering the World of Sushi.
Chapter 1: Embarking on the Sushi Adventure.
Chapter 2: Outfitting the Sushi Kitchen.
Chapter 3: Getting Familiar with Sushi Ingredients.
Chapter 4: Chilling Out with Fresh Seafood.
Part II: Getting Ready, Getting Set.
Chapter 5: Cooking and Seasoning Sensational Sushi Rice.
Chapter 6: Introducing Popular Sushi Types and Techniques.
Chapter 7: Slicing and Dicing the Sushi Way.
Part III: Rock-and-Rollin' Sushi Recipes.
Chapter 8: Creating Sushi Bar Favorites at Home.
Chapter 9: Quick-and-Easy Sushi: Finger-Snapping Fast Recipes.
Chapter 10: Do-Ahead Sushi: Sidestepping the Last-Minute Rush.
Chapter 11: Chi-Chi Sushi: Stepping Up to Glamorous Sushi.
Chapter 12: Extreme Sushi: Blowing Away the Boundaries.
Part IV: Enjoying Sushi Meals at Home and at the Sushi Bar.
Chapter 13: Serving Sensational Sushi Sidekicks.
Chapter 14: Hosting a Smashing Hand Roll Sushi Party.
Chapter 15: Demystifying the Sushi Bar Experience.
Part V: The Part of Tens.
Chapter 16: Ten Tips for Creating First-Rate Sushi at Home.
Chapter 17: Ten Tips for Minding Your Sushi Manners.
Appendix: Metric Conversion Guide.
Index.