Sustainability Challenges in the Agrofood Sector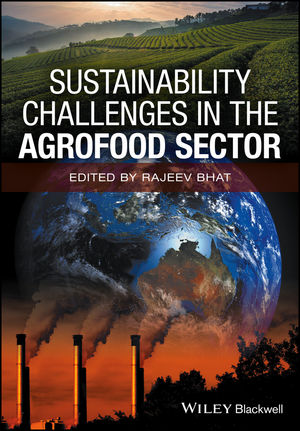 Sustainability Challenges in the Agrofood Sector
ISBN: 978-1-119-07276-8 April 2017 712 Pages
Description
Sustainability Challenges in the Agrofood Sector covers a wide range of agrofood-related concerns, including urban and rural agriculture and livelihoods, water-energy management, food and environmental policies, diet and human health. Significant and relevant research topics highlighting the most recent updates will be covered, with contributions from leading experts currently based in academia, government bodies and NGOs (see list of contributors below). Chapters will address the realities of sustainable agrofood, the issues and challenges at stake, and will propose and discuss novel approaches to these issues. This book will be the most up-to-date and complete work yet published on the topic, with new and hot topics covered as well as the core aspects and challenges of agrofood sustainability.
Table of contents
List of Contributors viii
Foreword xiii
Preface xvi
Introductory Note: Future of agrofood sustainability xviii
1 Food Sustainability Challenges in the Developing World 1
Rajeev Bhat
2 The Role of Small-scale Farms and Food Security 33
John McDonagh, Maura Farrell and Shane Conway
3 Sustainability Challenges, Human Diet and Environmental Concerns 48
Christian J. Reynolds, Jonathan D. Buckley, Philip Weinstein and John Boland
4 Sustainable Challenges in the Agrofood Sector: The Environment Food–Energy–Water Nexus 78
Chanathip Pharino
5 Dynamics of Grain Security in South Asia: Promoting sustainability through self-sufficiency 103
Ghose Bishwajit, Sharmistha Ghosh and Jose Renato Peneluppi, Jr.
6 Local Food Diversification and Its (Sustainability) Challenges 119
Eni Harmayani, Lily Arsanti Lestari, Puspita Mardika Sari and Murdijati Gardjito
7 Sustainable Supply Chain Management in Agri-food Chains: A Competitive Factor for Food Exporters 150
Ulla Lehtinen
8 How Logistics Decisions Affect the Environmental Sustainability of Modern Food Supply Chains: A Case Study from an Italian large-scale retailer 175
Riccardo Accorsi, Riccardo Manzini and Chiara Pini
9 Strengthening Food Supply Chains in Asia: Challenges and Strategies 197
Sapna A. Narula and Kalpana Vishnoi
10 Revolutionizing Food Supply Chains of Asia through ICTs 212
Sapna A. Narula
11 Sustainability, Materiality and Independent External Assurance: An Exploratory Study of the UK's Leading Food Retailers 227
Peter Jones, Robin Bown, David Hillier and Daphne Comfort
12 Environmental Sustainability of Traditional Crop Varieties: Reviewing Approaches and Key Issues for a Multilevel Evaluation 255
Alessandro K. Cerutti, Dario Donno, Maria Gabriella Mellano and Gabriele L. Beccaro
13 Cradle-to-gate Life Cycle Analysis of Agricultural and Food Production in the US: A TRACI Impact Assessment 274
Yong Shin Park, Gokhan Egilmez and Murat Kucukvar
14 Ensuring Self-sufficiency and Sustainability in the Agrofood Sector: Sustainability Challenges in Agriculture and Modelling 307
Prashant Goswami and Shivnarayan Nishad
15 Sustainability Challenges Involved in Use of Nanotechnology in the Agrofood Sector 343
Gabriela Elena Viacava, Francisco Javier Vázquez, Jesús F. Ayala-Zavala and María R. Ansorena
16 Sustainability of Nutraceuticals and Functional Foods 369
Santad Wichienchot and Wan Rosli Wan Ishak
17 Innovation and Sustainable Utilization of Seaweeds as Health Foods 390
Fook Yee Chye, Birdie Scott Padam and Seah Young Ng
18 Agrofoods for Sustainable Health Benefits and Their Economic Viability 435
Zakia Khanam and Irshad Ul Haq Bhat
19 Sustainability Challenges in Food Tourism 451
Yeoh Tow Kuang and Rajeev Bhat
20 Diversification, Innovation and Safety of Local Cuisines and Processed Food Products: Emerging Issues and the Sustainability Challenges 482
Yeoh Tow Kuang and Rajeev Bhat
21 Soil Health, Crop Productivity and Sustainability Challenges 509
Kulandaivelu Velmourougane and DeSouza Blaise
22 Analysing the Environmental, Energy and Economic Feasibility of Biomethanation of Agrifood Waste: A Case Study from Spain 532
Almudena González González, Francisco Cuadros Blázquez and Francisco Cuadros Salcedo
23 Agricultural Waste for Promoting Sustainable Energy 551
Thi-Thu-Huyen Do and Thi-Thu-Hang Pham
24 Membrane Technology in Fish-processing Waste Utilization: Some Insights on Sustainability 575
Wirote Youravong and Sutida Marthosa
25 Sustainability Issues, Challenges and Controversies Surrounding the Palm Oil Industry 596
Piyarat Boonsawang and Wirote Youravong
26 Sustainability Challenges in the Coffee Plantation Sector 616
Kulandaivelu Velmourougane and Rajeev Bhat
27 Food Safety Education: Training Farm Workers in the US Fresh Produce Sector 643
Angela M. Fraser and Otto D. Simmons
28 Sustainability Challenges and Educating People Involved in the Agrofood Sector 660
Caroline Opolski Medeiros
Index 675