Sustainable Gardening For Dummies, Australian and New Zealand Edition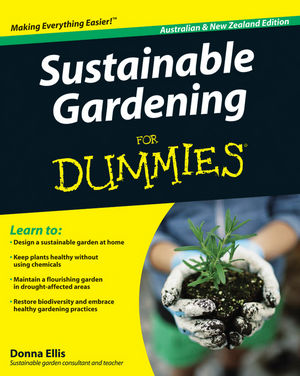 Sustainable Gardening For Dummies, Australian and New Zealand Edition
ISBN: 978-1-118-34854-3
Mar 2012
384 pages
Description
Created especially for the Australian customer!



Reduce your environmental footprint in the garden with this practical guide

With all the talk about the health of the planet, you've probably heard about sustainability. Now you can apply these principles in your own backyard, whether that's an Aussie apartment balcony or a sprawling Kiwi rural spread. Find out great techniques for planning your sustainable garden and keeping your plants - and you - happy and healthy.

 
Plant nutrients - what are they and how can you supply them
to your plants sustainably?
Watering techniques - how much water does your garden really need, and how can you conserve and supply it?

Landscaping and gardening materials - where do they come from and are they sustainable?

Biodiversity - how do you help increase the biodiversity of the planet through your own gardening practices?

Organic gardening, permaculture and biodynamics - what methods can you adopt to improve your sustainable garden?

Weeds and pests - how are they defined, and how do you control them while being kind to the environment?

Compost heaps and worm farms - how do you build and maintain them, and what do they do for your garden?

Potting mix - how can you choose a sustainable product or even make your own?
Introduction.

Part I: Understanding the Basics of Sustainable Gardening.

Chapter 1: Introducing Sustainable Gardening.

Chapter 2: Soils Ain't Soils.

Chapter 3: Water: Liquid Gold.

Part II: Designing a Sustainable Garden.

Chapter 4: Understanding Your Existing Space.

Chapter 5: Creating a Garden Plan.

Chapter 6: Making a Statement.

Part III: Developing Healthy Habits in Your Yard.

Chapter 7: Returning Biodiversity to Your Backyard.

Chapter 8: Keeping Plants Healthy.

Chapter 9: Compost and Mulch.

Chapter 10: Worms: Slimy but Good.

Part IV: Growing Plants Sustainably.

Chapter 11: Selecting Sustainable Plants.

Chapter 12: Vegies and Herbs, Fruit and Nuts.

Chapter 13: The Impossible Dream? Installing a Sustainable Lawn.

Chapter 14: Containers and Other Gardens for Small Spaces.

Part V: Other Schools of Thought.

Chapter 15: Organic Gardening.

Chapter 16: Permaculture.

Chapter 17: The Biodynamic Movement.

Part VI: The Part of Tens.

Chapter 18: Ten Ways Your Sustainable Garden Rewards You.

Chapter 19: Ten Facts about Weeds.

Chapter 20: Ten Tips for Maintaining Your Sustainable Garden.