Sustainable Healthcare Architecture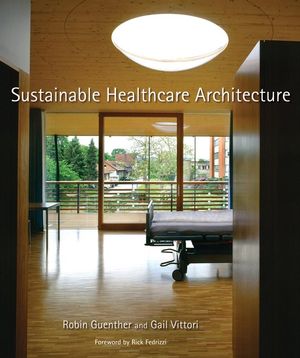 Sustainable Healthcare Architecture
ISBN: 978-0-471-78404-3
Nov 2007
464 pages
Product not available for purchase
Description
Design, restorative building, biophilia, enhanced air quality and high performance building systems.

Written by leading national experts on the subject -- one of whom was recognized by Time magazine as a green innovator -- Sustainable Healthcare Architecture is the key guide to designing sustainable healthcare facilities. Building on the authors? combined knowledge and experience, this book includes case studies of more than 50 of the best contemporary sustainable healthcare projects. The book also contains numerous essays contributed by other leaders in sustainable design and healthcare. Additionally, the authors provide background information on LEED for Healthcare, as well as on the Green Guide for Health Care, which they were instrumental in developing.
Foreword.
Acknowledgments.
Introduction.
PART 1 CONTEXT.
CHAPTER 1 Design and Stewardship.
CASE STUDY.
University of Wisconsin Cancer Center, Johnson Creek, Wisconsin.
ESSAYS.
Less Is Better BILL VALENTINE, FAIA.
Life Cycle Design: Toward an Ecology of Mind PLINY FISK III, MArch, MLArch.
Restoring Our Buildings, Restoring Our Health, Restoring the Earth.
BOB BERKEBILE, FAIA.
CASE STUDIES.
BC Cancer Agency Research Center, Vancouver, British Columbia.
Deventer Ziekenhuis, Deventer, Netherlands.
CHAPTER 2 The Built Environment and Human Health.
ESSAY.
Good Places—Good Health RICHARD JACKSON, MD, MPH, AND MARLON MAUS, MD, MPH.
CASE STUDY.
Gaviotas Hospital, Las Gaviotas, Colombia.
ESSAY.
Good Air, Good Health ANTHONY BERNHEIM, FAIA.
CASE STUDIES.
Fachkrankenhaus Nordfriesland, Bredstedt, Germany.
University of Arkansas for Medical Sciences College of Public Health, Little Rock, Arkansas.
CHAPTER 3 Environment and Medicine.
ESSAY.
The Recovery of the Sacred in Healthcare in the Ecological Renaissance.
MICHAEL LERNER, PHD.
CASE STUDIES.
Sambhavna Trust Clinic, Bhopal, India.
Joseph F. Sullivan Health Center at Clemson University, Clemson,
South Carolina.
ESSAYS.
Transforming Healthcare GARY COHEN.
From Medicine to Ecological Health TED SCHETTLER, MD, MPH.
CASE STUDIES.
University Of Texas Health Science Center School of Nursing and Student.
Community Center, Houston, Texas.
David R. Obey Health Sciences Center, Northcentral Technical College,
Wausau, Wisconsin.
CHAPTER 4 Nature and Healing.
CASE STUDIES.
Laguna Honda Replacement Hospital, San Francisco, California.
Southeast Regional Treatment Center at Madison State Hospital, Madison, Indiana.
ESSAY.
Nature and Healing: The Science, Theory, and Promise of Biophilic Design.
STEPHEN R. KELLERT, PHD, AND JUDITH H. HEERWAGEN, PHD.
CASE STUDY.
The Howard Ulfelder, MD, Healing Garden at the Yawkey Center for Outpatient Care, Boston, Massachusetts.
ESSAY.
Design With Rhythm JODY ROSENBLATT NADERI, ASLA, AND JERRY SMITH, ASLA.
CASE STUDIES.
Legacy Salmon Creek Hospital Landscape, Vancouver, Washington.
Dell Children's Medical Center of Central Texas Therapeutic Gardens, Austin,
Texas.
PART 2 ACTUALIZING THE VISION.
CHAPTER 5 The Business Case.
CASE STUDIES.
Kaiser Permanente Modesto Medical Center, Modesto, California.
Children's Hospital of Pittsburgh/University of Pittsburgh Medical Center, Pittsburgh, Pennsylvania.
CHAPTER 6 Design Process.
ESSAY.
The Integrative Design Process: Changing Our Mental Model.
BILL REED, AIA.
CASE STUDIES.
San Juan Regional Medical Center, Farmington, New Mexico.
St. Mary's/Duluth Clinic, First Street Building, Duluth, Minnesota.
Mills-Peninsula Health Services Hospital Replacement Project, Burlingame, California.
ESSAYS.
Construction and Health J. A. VANEGAS, PHD.
Commissioning TIA HENEGHAN, PE, AND REBECCA T. ELLIS, PE.
CHAPTER 7 Integrated Operations.
CASE STUDIES.
C. S. Mott Children's and Women's Hospitals, Ann Arbor, Michigan.
Metro Health Hospital at Metropolitan Health Care Village, Wyoming, Michigan.
Advocate Lutheran General Hospital and Lutheran General Children's Hospital Patient Care Tower, Park Ridge, Illinois.
Changi General Hospital, Simei, Singapore.
Alexandra Hospital at Yishun, Yishun, Singapore.
Geriatriezentrum Favoriten (Favoriten Geriatric Clinic), Vienna, Austria.
ESSAY.
Integrating Operations in the Design Process JANET BROWN, LAURA BRANNEN, AND SARAH O'BRIEN.
CHAPTER 8 Tools.
ESSAY.
The Green Guide for Health Care Pilot Program ADELE HOUGHTON, RA, GREEN GUIDE FOR HEALTH CARE PROJECT MANAGER.
CASE STUDIES.
Carl J. and Ruth Shapiro Cardiovascular Center at Brigham and Women's Hospital, Boston, Massachusetts.
Spaulding Rehabilitation Hospital, Boston, Massachusetts.
University Hospital, Coventry, England.
Evelina Children's Hospital, London, England.
Gravesham Community Hospital, Kent, England.
Kaleidoscope, Lewisham Children and Young People's Center, London, England.
PART 3: VISIONING THE FUTURE.
CHAPTER 9 Pioneers and Benchmarks.
CASE STUDIES.
The Lacks Cancer Center at St. Mary's Health Care, Grand Rapids, Michigan.
Dominican Sisters Marywood Center, Grand Rapids, Michigan.
Boulder Community Hospital, Boulder, Colorado.
Legacy Salmon Creek Hospital, Vancouver, Washington.
Winship Cancer Institute at Emory University, Atlanta, Georgia.
The D'Amour Center for Cancer Care, Springfield, Massachusetts.
Providence St. Peter Hospital Campus Renewal, Olympia, Washington.
Bloorview Kids Rehab, Toronto, Ontario.
CHAPTER 10 Resource Stewardship.
Land Use.
ESSAY.
We All Live Downstream CAROL FRANKLIN, ASLA, AND TERESA DURKIN.
CASE STUDY.
Fletcher Allen Health Care Renaissance Project, Burlington, Vermont.
Water Conservation.
ESSAY.
Sustainability, Water, and Healthcare PETER WARSHALL, PHD.
CASE STUDIES.
Waitakere Hospital, Auckland, New Zealand.
Oregon Health & Sciences University, Portland, Oregon.
Peter O. Kohler Pavilion.
Biomedical Research Building.
The Center for Health & Healing.
Energy-Demand Reduction.
ESSAY.
Energy Use, Energy Production and Health ALEXIS KAROLIDES, RA.
CASE STUDIES.
Dell Children's Medical Center of Central Texas, Austin, Texas.
Providence Newberg Medical Center, Newberg, Oregon.
Materials and Resources.
ESSAY.
Specifying for Health GREG ROBERTS, AIA, FCSI, CCS, CCCA, ACHA.
CASE STUDIES.
The Sarkis and Siran Gabrellian Women's and Children's Pavilion at Hackensack, University Medical Center, Hackensack, New Jersey.
Continuum Center for Health and Healing, Jay Monahan Center for Gastrointestinal Health, New York, New York.
Breathing Easier: Environmental Quality.
ESSAY.
Building Ventilation HAL LEVIN, BARCH.
CASE STUDIES.
Washington State Veterans Home, Retsil, Washington.
Meyer Children's Hospital (Ospedale Pediatrico Meyer die Firenze), Florence, Italy.
CHAPTER 11 Toward a New Language of Form.
CASE STUDY.
Rikshospitalet-Radiumhospitalet Medical Centre, Oslo, Norway.
ESSAY.
Doubling Daylight RAY PRADINUK, MBAIC.
CASE STUDIES.
Mother's and Children's Hospital of Madrid, Madrid, Spain.
REHAB Basel Centre for Spinal Cord and Brain Injuries, Basel, Switzerland.
Palomar Medical Center West, Escondido, California.
ESSAY.
Humanism in the Art of Sustainable Healing SEAN STANWICK, MEDESARCH AND TYE FARROW, MARCH.
CASE STUDIES.
Thunder Bay Regional Health Sciences Centre, Thunder Bay, Ontario.
The Carlo Fidani Peel Regional Cancer Centre & the Vijay Jeet and Neena Kanwar.
Ambulatory Centre at Credit Valley Hospital, Mississauga, Ontario.
The Patrick H. Dollard Discovery Health Center, Harris, New York.
Ryan Ranch Outpatient Campus, Monterey, California.
ESSAY.
Open Building: Healthcare Architecture on the Time Axis STEPHEN KENDALL, PHD.
CASE STUDIES.
St. Olav's Hospital, Trondheim, Norway.
The Sarah Network of Hospitals for Rehabilitation, Brasília, Salvador, São Luís, Belo Horizonte, Fortaleza, and Rio de Janeiro, Brazil.
CHAPTER 12 Ecological Footprint and Beyond.
ESSAYS.
Toward a Carbon Neutral Hospital SIMON SHAW, RIBA.
The PBT-Free Challenge TOM LENT AND JULIE SILAS.
CHAPTER 13 Creating the Twenty-First Century Hospital.
ESSAYS.
Design and Stewardship: How the Design of Facilities Helps Create Better Neighborhoods and Communities BILL WALSH.
From Towers of Illness to Cathedrals of Healing CHARLOTTE BRODY, RN.
Bibliography and References.
Contributors.
Index.
"This book is a key reference for the design of sustainable health-care facilities." (
ENR.com
, 2/08)
"Written by an architect focused on sustainable health-care design and an expert in green innovation, this book is a key reference for the design of sustainable health-care facilities." (ENR.com; 1/3/08)
"This is a very important book. The authors document a change in the profession that is as remarkable as it is swift-paced, because they present eloquent examples of sustainable architecture thriving in environments where it has the potential to do users the most good. Equally important, the book embodies the integrated, collaborative practice that makes green architecture possible, both in the presentation of the buildings and the book itself. Sustainable Healthcare Architecture is well documented, well written, well indexed, and well edited. It's also well illustrated, albeit in black and white, and with its 16-page four-color signature as a visual treat..." (AIArchitect, January 2007)