Sustainable Industrial Chemistry: Principles, Tools and Industrial Examples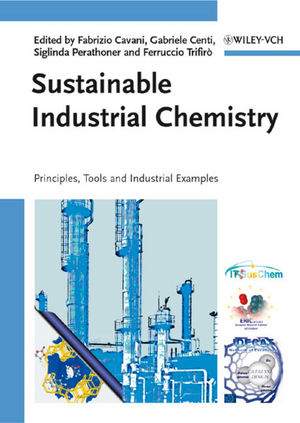 Sustainable Industrial Chemistry: Principles, Tools and Industrial Examples
ISBN: 978-3-527-62912-1
Sep 2009
621 pages
Description
In recent years the need for sustainable process design and alternative reaction routes to reduce industry?s impact on the environment has gained vital importance. The book begins with a general overview of new trends in designing industrial chemical processes which are environmentally friendly and economically feasible. Specific examples written by experts from industry cover the possibilities of running industrial chemical processes in a sustainable manner and provide an up-to-date insight into the main concerns, e.g., the use of renewable raw materials, the use of alternative energy sources in chemical processes, the design of intrinsically safe processes, microreactor and integrated reaction/ separation technologies, process intensification, waste reduction, new catalytic routes and/or solvent and process optimization.
Preface.
List of Contributors.
1 From Green to Sustainable Industrial Chemistry (Gabriele Centi and Siglinda Perathoner).
2 Methods and Tools of Sustainable Industrial Chemistry: Catalysis (Gabriele Centi and Siglinda Perathoner).
3 Methods and Tools of Sustainable Industrial Chemistry: Process Intensification (Gabriele Centi and Siglinda Perathoner).
4 Membrane Technologies at the Service of Sustainable Development Through Process Intensification (Gilbert M. Rios, Marie-Pierre Belleville, Delphine Paolucci-Jeanjean, and José Sanchez).
5 Accounting for Chemical Sustainability (Gabriele Centi and Siglinda Perathoner).
6 Synthesis of Propene Oxide: A Successful Example of Sustainable Industrial Chemistry (Fabrizio Cavani and Anne M. Gaffney).
7 Synthesis of Adipic Acid: On the Way to More Sustainable Production (Fabrizio Cavani and Stefano Alini).
8 Ecofining: New Process for Green Diesel Production from Vegetable Oil (Franco Baldiraghi, Marco Di Stanislao, Giovanni Faraci, Carlo Perego, Terry Marker, Chris Gosling, Peter Kokayeff, Tom Kalnes, and Rich Marinangeli).
9 A New Process for the Production of Biodiesel by Transesterification of Vegetable Oils with Heterogeneous Catalysis (Edouard Freund).
10 Highly Sour Gas Processing in a More Sustainable World (François Lallemand and Ari Minkkinen).
11 BioETBE: A New Component for Gasoline (Marco Di Girolamo and Domenico Sanfilippo).
12 Olefin/Paraffin Alkylation: Evolution of a "Green" Technology (Anne M. Gaffney and Philip J. Angevine).
13 Towards the Direct Oxidation of Benzene to Phenol (Marco Ricci, Daniele Bianchi, and Rossella Bortolo).
14 Friedel-Crafts Acylation of Aromatic Ethers Using Zeolites (Roland Jacquot and Philippe Marion).
15 Green Sustainable Chemistry in the Production of Nicotinates (Roderick Chuck).
16 Introducing Green Metrics Early in Process Development. Comparative Assessment of Alternative Industrial Routes to Elliott's Alcohol, A Key Intermediate in the Production of Resmethrins (Paolo Righi, Goffredo Rosini, and Valerio Borzatta).
17 Basell Spherizone Technology (Maurizio Dorini and Gabriele Mei).
Index.