Sustainable Management of Tropical Catchments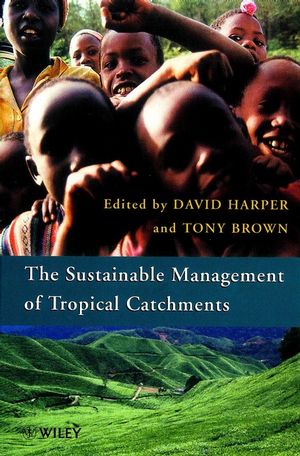 Sustainable Management of Tropical Catchments
ISBN: 978-0-471-96914-3
Mar 1999
396 pages
Description
Provides syntheses of studies in three continents on the problem of achieving and understanding tropical rural development without compromising longer-term sustainability of the soil and water systems that underpin it.

The studies were carried out in Central/South America, Africa and Asia during the 1990s, mostly through the support of the EU Science and Technology for Development Programme. The studies encompass examples of erosion measurement:; of erosion control and conservation techniques at soil and ecosystem levels; of the limits to uses of fragile tropical soils; of the effects of runoff combined with regulation on rivers and reservoirs; of the importance of indigenous people in the development processes and of the value and limitations of modelling at scales from soils to catchment. There is no single message from the book because there is no single solution to the problems of achieving sustainable tropical development.

This book presents ideas, techniques and case studies, knowledge of which will help researchers in many scientific and social disciplines to understand the complexities better, and politicians and bureaucrats to understand the consequences of development decisions and learn from the failure of many earlier ones.
INTRODUCTION

Sustainability in the Context of Tropical Catchments

SOILS, EROSION AND LAND USE

Introduction

From Plot to Basins: The Scale Problem in Studies of Soil Erosion and Sediment Yield

Remote Sensing and GIS Studies of Erosion Potential for Catchment Management: A Densely Populated Agricultural Catchment in Kenya

Socio-economic Aspects of Subsistence Farming and Soil Erosion in Tropical Catchment Management: The Upper Tana, Kenya

Agroecological Practices as Tools for the Sustainable Management of Catchments Susceptible to Erosion: Reunion Island

The Importance of Geopedology in Sustainable Use of Tropical Catchments: Sodic Soils and Land Use Scenarios in Northern Amazonia

Soil Restoration and Conservation: The "Tepetates" -
Indurated Volcanic Soils - in Mexico

Environmental Management for Sustainable Selective Logging in Tropical Rainforests

Environmental Limits to Sustainable Coffee Cultivation on Tropical Soils: The Sungai, Pemadang Catchment, Brunei

CATCHMENT CONSERVATION AS AN INTEGRAL PART OF SUSTAINABLE MANAGEMENT

Introduction

Conservation of Tropical Peat Swamp Forests: A Peatland Catchment in Central Kalimantan

Catchment Sustainability and River Biodiversity in Asia: A Case Study from Nepal

Conservation of Inland Deltas: A Case Study of the Gash Delta, Sudan

The Importance of People in the Management of Tropical Catchments

Hydrological and Ecological Considerations in the Management of a Catchment Controlled by a Reservoir Cascade: The Tana River, Kenya

Information for the Sustainable Management of Shallow Lakes: Lake Naivasha, Kenya

MODELLING: AN ESSENTIAL TOOL FOR SUSTAINABLE MANAGEMENT

Introduction

The Importance of Soil Infiltration Dynamics and Data Uncertainty: Field Studies on Soils in Zimbabwe

Distributed Numerical Modelling of Surface Runoff and Soil Erosion in Arid Catchments

Hydrological Modelling in Humid Tropical Catchments

Modelling Lake Level Changes: Examples from the Easter Rift Valley, Kenya

The Influence of Tropical Catchments upon the Coastal Zone: Modelling the Links between Groundwater and Mangrove Losses in Keyna, India/Bangladesh and Florida
"... the authors and editors do a good job in presenting a state of the art review." (Progress in Environmental Science)