Sustainable Residential Interiors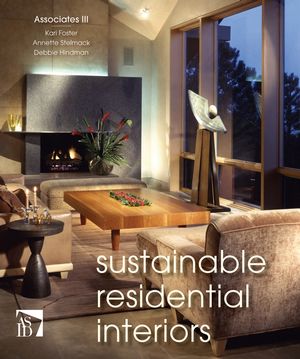 Sustainable Residential Interiors
ISBN: 978-0-471-75607-1
Nov 2006
464 pages
Product not available for purchase
Description
An illustrated guide to "green" design strategies
"This is a book that many in the design community have been waiting for--a volume that clearly and succinctly lays out the strategies and tools at our disposal for creating interiors that will serve not only our clients' needs, but also those of the planet. Best of all, it's an inspiration to read, allowing each of us to see our way to becoming a part of the design solution needed for a sustainable future. If you are a designer, you need this book!"
--Sarah Susanka, FAIA, author of the Not So Big series and Home by Design
"This excellent book will benefit designers of residential interiors that incorporate sustainable design into their practices or are looking to begin to do so. Designers may be surprised by the variety of projects shown that are great examples of residential sustainable interiors."
--Bernadette Upton, ASID, LEED AP, founding member of the Sustainable Design Council and member of the Florida Green Building Coalition
Issues of sustainability and environmental consciousness have been increasingly important to designers of residential interiors. A leading firm that has built its expertise in addressing environmental concerns in residential interiors, Associates III presents solutions for the design practitioner in this book. Covering topics such as indoor air quality, identifying low-impact materials, conserving energy and water, and support of construction teams in reducing waste, Sustainable Residential Interiors provides designers with the necessary information and tools to integrate environmentally responsible design into their practice.
Sustainable Residential Interiors takes readers through an integrated design process, showing how sustainable principles and practices can be applied on virtually every level of interior design. Taking a practical, hands-on approach, this accessible and easy-to-understand resource guide includes:
Visual examples of sustainable projects and applications
Critical thinking about environmental issues within homes
Guidelines for clients and project teams
Helpful checklists for greening projects and specification
In-depth information to promote understanding and assist in specifying interior finishes and furnishings
Questions for manufacturers and vendors
Effective methods of marketing sustainable design services
Acknowledgments.
Introduction.
Inspiration for Change.
Chapter 1. Why Be Sustainable.
Chapter 2. Inspiring Stories.
Chapter 3. Inspiring Projects.
Application and Process.
Chapter 4. Greening Projects.
Chapter 5. Greening Specifications.
Understanding Materials.
Chapter 6. Concrete.
Chapter 7. Masonry.
Chapter 8. Metals.
Chapter 9. Wood and Composites.
Chapter 10. Openings: Doors and Windows.
Chapter 11. Finishes.
Chapter 12. Specialties.
Chapter 13. Equipment: Appliances and Office Equipment.
Chapter 14. Mechanical: Plumbing.
Chapter 15. Electrical: Lighting and Ligt Fixtures.
Chapter 16., Furnishings.
Adopting a New Vision.
Chapter 17. Green Business Development.
Chapter 18. Sustaining Life.
Resources.
Glossary.
Index.
Associates III's Sustainable Residential Interiors is the 2008 winner of the Joel Polsky Prize, awarded by the ASID Educational Foundation for outstanding contribution to the literature of interior design.
Specifically addresses residential design projects
Provides in-depth information about interior finishes and furnishings
Demonstrates a hands-on practical approach, including helpful checklists
Includes comprehensive lists of questions for clients, project teams, manufacturers and vendors
Includes a number of the best contemporary examples of sustainable interior design projects, with photographs and drawings of the design
Addresses site recycling, maintenance and material wear issues