Sustainable and Resilient Communities: A Comprehensive Action Plan for Towns, Cities, and Regions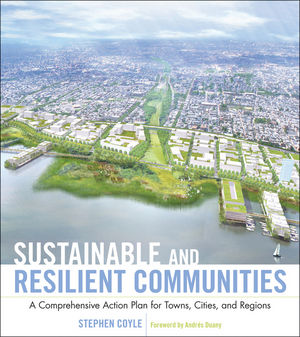 Sustainable and Resilient Communities: A Comprehensive Action Plan for Towns, Cities, and Regions
ISBN: 978-0-470-53647-6
Mar 2011
416 pages
Product not available for purchase
Description
Many of today's communities face an unprecedented struggle to adapt and maintain their environmental, economic, and social well-being in an era beleaguered by fiscal constraints, uncertainty about energy prices and supplies, rapid demographic shifts, and accelerated climate impacts. This step-by-step guidebook for urban planners and urban designers explains how to create and implement an actionable plan for making neighborhoods, communities, and regions more environmentally healthy, resource-conserving, and economically resilient. Sustainable and Resilient Communitiesdelineates measures for repairing, retrofitting, and transforming our built environments and supporting systems.
Foreword.
Acknowledgments.
Introduction.
Chapter 1. The Built Environments and Supporting Systems.
Chapter 2. The Process of Transformation.
Chapter 3. The Physical Built Environment.
Chapter 4. The Regulatory Environment.
Chapter 5. Transportation.
Chapter 6. Energy.
Chapter 7. Water.
Chapter 8. Natural Environment.
Chapter 9. Food Production/Agriculture.
Chapter 10. Solid Waste.
Chapter 11. Economics.
Chapter 12. Engagement and Education.
Chapter 13. Public Health.
Appendix.
Endnotes.
Contributors.
Index.