Sustaining Change: Leadership That Works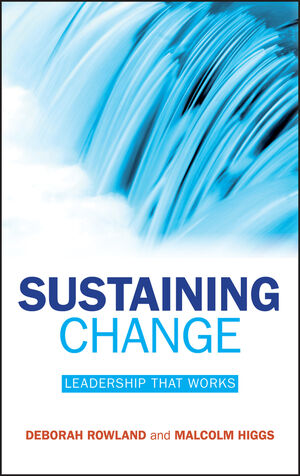 Sustaining Change: Leadership That Works
ISBN: 978-0-470-68755-0 August 2009 Jossey-Bass 392 Pages
Description
This is a book destined for leaders who wish to implement change more intelligently and effortlessly. Drawing on a combination of rigorous research and extensive organizational experience, the authors present a framework for leading change, ?Changing Leadership?, that describes the specific leader practices they have found make the biggest difference between success and failure in implementing high magnitude change. In doing all of this, the leader works to make change happen in the day to day activity and conversations of the organization.
Foreword.
Acknowledgments.
1 Introduction.
Part I: Defi ning Changing Leadership.
2 Is change changing?
3 Are leaders leading?
4 Changing leadership – a framework.
Part II: Seeing Changing Leadership.
5 Attractor – creating magnetic energy.
6 Edge and tension – amplifi es disturbance.
7 Container – provides holding structure.
8 Transforming Space – creates movement.
Part III: Working With Changing Leadership.
 9. Linking Changing Leadership.
10. Developing Changing Leadership.
11. Where Next?
Recommended Reading List.
Index.
""…this book will enable organisations to make substantial performance improvements in change leadership."" (
Government Opportunities
, March 2008)
""Rowland and Higgs argue that what leaders do determines half of change implementation success."" (Gulf Business, October 2008)