Sustaining Distance Training: Integrating Learning Technologies into the Fabric of the Enterprise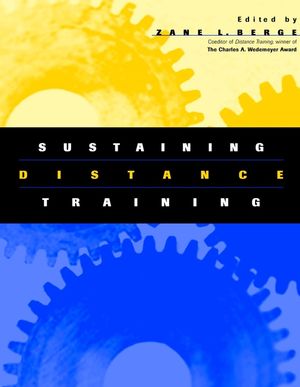 Sustaining Distance Training: Integrating Learning Technologies into the Fabric of the Enterprise
ISBN: 978-0-787-95331-7
Nov 2000, Jossey-Bass
448 pages
Description
In this companion volume to Distance Training, Sustaining Distance Training presents practical steps for integrating distance training into the day-to-day operations of any organization. Berge shows organizations how to move beyond the initial phases of setting up a distance training program and make it a part of the strategic planning process, including infrastructure, budget, staffing, and policy planning. He explains how twenty of the world's leading organizations have mastered the basics of distance training and have taken their efforts to the next level where distance training becomes the most effective method for delivering the training your workforce needs to embrace emerging technologies in today's highly competitive, global economy.
The Context of Distance Training and Education: Predicting Change (Z. Berge).

From Project Management to Strategic Planning (Z. Berge).

MEETING THE CHALLENGE OF UNCOMMON ORGANIZATIONAL CHANGE.

Attracting, Training, and Retaining Instructors for Distance Learning at the US General Accounting Office(J. Longnecker).

Center for Learning at SBC Communications, Inc. (N. Friend & T. Eisma).

The World is Officially Open for Business: How MCI WorldCom University Used the Corporate Intranet to Train a New Era Communications Company (C. Treanor & J. Irwin).

Learning at a Distance: Surviving Implementation at the US Army Intelligence Center's Distance Learning Office (J. Ellsworth & L. Iorizzo).

Making It Work: Training Short-Term Personnel at a Distance from Reseau Interaction Network (D. Larocque & N. Thomas).

Distance Learning Implementation at the Internal Revenue Service: A Catalyst for Organizational Change (T. Scheer).

SETTING COMPETITIVE STANDARDS.

UAW DaimlerChrysler NTC (J. Codde & R. Egidio).

FirstUnion: Distance Learning at Work (S. Latten, et al.)..

Fordstar: Sustaining Distance Education at Ford Motor Company (J. Dessinger).

Learning to Work in Web-Time--Evaluating Time-to-Market Instruction at Nortel Networks (G. Michalski).

The Need for Coaching in a Distance Learning Environment: Lessons Learned at Cap Gemini (J. May & J. De Jong).

Hewlett-Packard's Regional Training Center (A. Brance, et al.).

ACHIEVING ORGANIZATIONAL GOALS.

Building Motivation for Distance Learners in Public Health (B. Polhamus, et al.).

Supporting an Enterprise Distance Learning Program at NYNEX (B. Howard)..

US Postal Service's Integration of Distance Learning Initiatives to Meet Organizational Goals (M. Wankel).

TeleEducation NB: A Province-Wide Distributed Distance Learning Netowrk (R. McGreal).

From Training Enhancement to Organizational Learning: The Migration of Distance Learning at the American Red Cross (N. Rogers & S. Becker).

Tools for Change: Linking the Organizational Perspective with Distance Training and Education Programs (Z. Berge).
"A compelling book that addresses the critical issues facing organizations involved in the dynamic world of distance learning including how to sustain and manage distance training in a rapidly evolving business environment. A must-read for all learning organizations." --Jolly T. Holden, chief learning strategist, Gilat-To-Home

"This volume is an excellent compilation of case studies that are rich in facts and lessons." --Mick Mortlock, dean, CIGNA Institute of Technology, and member, advisory board, Internet Learning Company

"I feel this book is an excellent pulse-check of corporate training and education at a distance. Dr. Berge has given us a window into the challenging and changing world of corporate training-the trials, successes, and faults of a wide range of organizations are clearly detailed, dissected, and summarized." --Myk Garn, chief academic officer, Kentucky Commonwealth Virtual University

Praise for the author's previous book, Distance Training. "Distance Training is a solid piece of work, one that will prove useful time and again for anyone with responsibilities for the design, development, delivery, and evaluation of distance learning initiatives in organizations." --Educational Technology Society Journal