Sustaining Innovation: Creating Nonprofit and Government Organizations that Innovate Naturally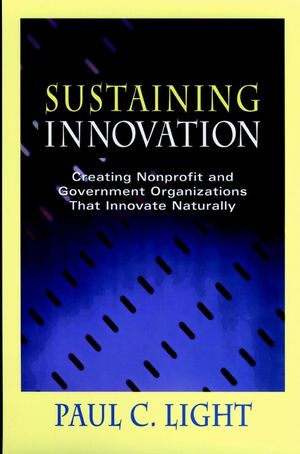 Sustaining Innovation: Creating Nonprofit and Government Organizations that Innovate Naturally
ISBN: 978-0-787-94098-0
Feb 1998, Jossey-Bass
336 pages
Description
Paul Light has captured the spirit of innovation. It is not about spectacular acts by individuals who labor against the odds, but about the hard work of building organizations in which innovation is expected and possible. It is about tilling the soil so that ideas can flourish. Anyone who wants to take their organization forward toward natural innovation should read this book.
--Walter F. Mondale

Any organization can innovate once. The challenge is to innovate twice, thrice, and more?to make innovation a part of daily good practice. This book shows how nonprofit and government organizations can transform the single, occasional act of innovating into an everyday occurrence by forging a culture of natural innovation.

Filled with real success stories and practical lessons learned, Sustaining Innovation offers examples of how organizations can take the first step toward innovativeness, advice on how to survive the inevitable mistakes along the way, and tools for keeping the edge once the journey is complete.

Light also provides a set of simple suggestions for fitting the lessons to the different management pressures facing the government and nonprofit sector. Unlike the private sector, where innovation needs only to be profitable to be worth doing, government and nonprofit innovation must be about doing something worthewhile. It must challenge the prevailingwisdom and advance the public good. Sustaining Innovation gives nonprofit and government managers a coherent, easily understood model for making this kind of innovation a natural reality.
1. Preferred States of Organizational Being.

2. Removing Barriers and Debunking Myths.

3. Harnessing the Environment as a Force for Change.

4. Structuring the Organization to Encourage Creativity.

5. Changing the Leader's Work.

6. Using Management Systems that Accelerate Good Ideas.

7. Confronting Real Life in Nonprofit and Governmental Organizations.

8. The Core Values of Innovating Organizations.
"Paul Light has captured the spirit of innovation. It is not about spectacular acts by individuals who labor against the odds, but about the hard work of building organizations in which innovation is expected and possible. It is about tilling the soil so that ideas can flourish. Anyone who wants to take their organization forward toward natural innovation should read this book." --Walter F. Mondale

"Many governments cannot tolerate innovation. Some can survive the occasional innovator, but don't want to make it a habit. A very few try to institutionalize the process, to become innovating organizations. But it can be done, and no one is better qualified to show the way than Paul Light, one of the country's best analysts of the dynamics of public organizations. He's not only thoughtful and perceptive, but thankfully, he can write." --?Peter A. Harkness, editor and publisher, GOVERNING Magazine

Paul Light has provided us, at last, with a deep understanding of the elements of success in sustaining ?what works.' His systematic study of the characteristics of organizations that move beyond the sporadic innovation and the irreplaceable wizard will prove invaluable as both public and nonprofit organizations struggle to devise new strategies to serve shared social purposes." --?Lisbeth B. Schorr, lecturer in Social Medicine and director, Project on Effective Interventions, Harvard Univeristy

"Sustaining Innovation is a dynamic guide for any organization that is prepared to make a leap to natural innovation. [Light's] insight and support is useful for all leaders, regardless of the kind of zoo they run." --Kathryn R. Roberts, director, Minnesota Zoo