Switching to a Mac For Dummies, 2nd Edition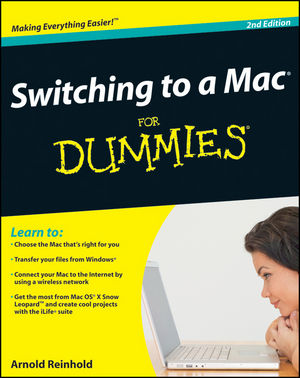 Switching to a Mac For Dummies, 2nd Edition
ISBN: 978-0-470-46661-2
Sep 2009
408 pages
Product not available for purchase
Description
Switch to a Mac with ease using this practical, humorous guide
Want to try life outside of Windows? You've come to the right place. Users are switching from PCs to Macs in droves, and now you can, too, with this helpful guide.
In a fun, but practical way, the book walks you through the entire process-hardware and software-including selecting a Mac, moving files, setting up security, and getting the most out of all the fun stuff that makes Macs famous, such as the iLife suite, and more.
This book is fully updated for the new generation of Mac hardware and software, including Mac OS X Snow Leopard, the iLife suite, and the latest trends and tools
Explore running Windows on your Mac via Boot Camp, how to switch your applications, converting your business to a Mac, getting online, and more
Plus, you don't even have to give up Microsoft Office, thanks to Microsoft Office for Mac-so get this indispensable book and join the fun!
Introduction.
Part I: Informed Switching Starts Here.
Chapter 1: Why Switch? Demystifying the Mac Mantra.
Chapter 2: Meet the Mac Family.
Chapter 3: Deciding What to Buy.
Part II: Making the Switch.
Chapter 4: The Big Day: Setting Up Your Mac.
Chapter 5: Mac OS X for Windows Users.
Chapter 6: Moving Files from Your PC to the Mac.
Chapter 7: Switching Applications.
Part III: Connecting Hither and Yon.
Chapter 8: Getting Your Mac Online.
Chapter 9: Networking the Mac Way.
Chapter 10: Staying Secure in a Connected World.
Part IV: More Software, More Choices.
Chapter 11: Easy Listening with iTunes.
Chapter 12: Picturing iPhoto.
Chapter 13: Producing Movies and Music on Your Mac.
Chapter 14: Building Your Space on the Web.
Chapter 15: Enjoying Other OS X Goodies.
Chapter 16: Oops, It's a PC: Running Windows on Your Mac.
Part V: Specialty Switching Scenarios.
Chapter 17: Switching with the Whole Family in Mind.
Chapter 18: Switching Your Business to Macs.
Chapter 19: Desktop to Dashcode: OS X Advanced.
Part VI: The Part of Tens.
Chapter 20: Ten Terrifi c Troubleshooting Tips.
Chapter 21: Ten Ways Your Mac Can Help the Planet.
Chapter 22: Ten Creative Uses for Your Old PC.
Appendix: Mac Speak versus Windows Speak: A Translation Glossary.
Index.