Switching to a Mac For Dummies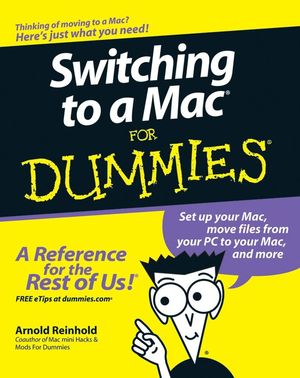 Switching to a Mac For Dummies
ISBN: 978-1-118-05156-6 February 2011 384 Pages
Description
Thinking of making the switch from your PC to a Mac? Congratulations! You're in for a great, virus-free ride. And
Switching to Mac For Dummies
makes it smoother than you ever imagined. From buying the Mac that's right for you to transferring your files to breaking your old Windows habits and learning to do things the (much easier) Mac way, it makes the whole process practically effortless.
Whether you've been using Windows XP, Vista, or even Linux, you'll find simple, straightforward ways to make your transition go smoothly. That will leave you plenty of time to get familiar with Mac's prodigious and dynamic OS X capabilities. You'll also connect with iLife, Mac's amazing integrated software suite that lets you turn your computer into a powerful media center—not just for listening and watching, but for creating music, video, and much more. Discover how to:
Decide whether the switch to Mac is right for you
Choose the Mac that will change your life
Keep and reuse elements of your old setup
Go online with your Mac
Connect to your home network—even that old PC
Go media crazy with iTunes, iPhoto and more
Take advantage of Mac's business capabilities
Complete with handy cheat sheet of common Mac short cuts and commands as well as a glossary of Mac world lingo, Switching to Mac For Dummies ensures that your switch will be the smartest thing you ever do.
Table of contents
Introduction.
Part I: Informed Switching Starts Here.
Chapter 1: Why Switch? Demystifying the Mac Mantra.
Chapter 2: Meet the Mac Family.
Chapter 3: Deciding What to Buy.
Part II: Making the Switch.
Chapter 4: The Big Day: Setting Up Your Mac.
Chapter 5: Mac OS X for Windows Users.
Chapter 6: Moving Files from Your PC to the Mac.
Chapter 7: Switching Applications.
Part III: Connecting Hither and Yon.
Chapter 8: Getting Your Mac Online.
Chapter 9: Networking the Mac Way.
Chapter 10: Staying Secure in a Connected World.
Part IV: More Software, More Choices.
Chapter 11: The Sweet iLife Suite.
Chapter 12: Enjoying Other OS X Goodies.
Chapter 13: Oops, It's a PC: Running Windows on Your Mac.
Part V: Specialty Switching Scenarios.
Chapter 14: Switching with the Whole Family in Mind.
Chapter 15: Switching Your Business to Macs.
Chapter 16: Converting from OS 9 and Other Operating Systems.
Chapter 17: Desktop to Dashcode: OS X Advanced.
Part VI: The Part of Tens.
Chapter 18: Ten Terrific Troubleshooting Tips.
Chapter 19: Ten Cool Mac Tricks.
Chapter 20: Ten Creative Uses for Your Old PC.
Appendix: Mac Speak versus Windows Speak: A Translation Glossary.
Index.