Syncope: Mechanisms and Management, 2nd Edition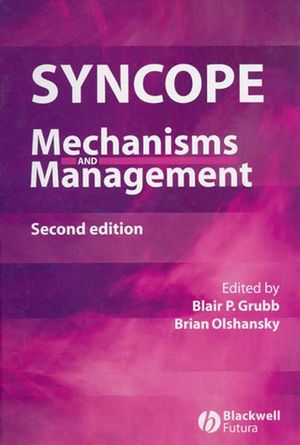 Syncope: Mechanisms and Management, 2nd Edition
ISBN: 978-0-470-99480-1
Nov 2007, Wiley-Blackwell
384 pages
Description
The second edition of Syncope: Mechanisms and Management has been completely updated and revised and remains the most comprehensive textbook ever published on this common clinical entity. It provides up-to-date coverage of virtually every known cause of syncope, integrating knowledge of pathophysiology with practical guidelines for diagnosis and management. Incorporating clinical, investigative and experimental work conducted by leading authorities from all over the world, this book will serve as a practical resource for practicing cardiologists, electrophysiologists, neurologists, internists, pediatricians, and family physicians, as well as residents and fellows in these disciplines.
Chapter 1: Syncope: An Overview of Evaluation and Management.
Chapter 2: Neurocardiogenic Syncope.
Chapter 3: Dysautonomic (Orthostatic) Syncope.
Chapter 4: Bradyarrhythmias as a Cause of Syncope.
Chapter 5: Tachyarrhythmias as a Cause of Syncope.
Chapter 6: Use of Electrophysiologic Studies in Syncope: Practical Aspects of Diagnosis and Management.
Chapter 7: Tilt Table Testing.
Chapter 8: Use of Implantable Cardioverter Defibrillators in Patients With Syncope.
Chapter 9: Neurologic Causes of Syncope.
Chapter 10: Structural and Obstructive Causes of Cardiovascular Syncope.
Chapter 11: Inherited Arrhythmic and Related Causes of Syncope.
Chapter 12: Psychiatric Disorders in Patients With Syncope.
Chapter 13: Postural Tachycardia, Orthostatic Intolerance and the Chronic Fatigue Syndrome.
Chapter 14: Carotid Sinus Hypersensitivity.
Chapter 15: Miscellaneous Causes of Syncope.
Chapter 16: Syncope in the Child and Adolescent.
Chapter 17: Syncope in the Athlete.
Chapter 18: Syncope in the Elderly.
Chapter 19: The Implantable Loop Recorder for Diagnosis of Unexplained Syncope.
Chapter 20: Driving and Syncope.
.
Chapter 21: Syncope and the Law
'The editors succeed in providing a comprehensive and up-to-date description of the broad scope of syncope, which makes this book a principal text in the field of syncope. The book is very well written and is an excellent addition to the library of any physician who seeks information on the causes, evaluation, and management of syncope.'
Hamid Afshar (MD, Ochsner Clinic Foundation), Doodys


2nd revised edition of the standard book on syncope.

International contributions by the key authorities on the subject.

A comprehensive and balanced presentation of material of interest to a wide audience.