Syncope Cases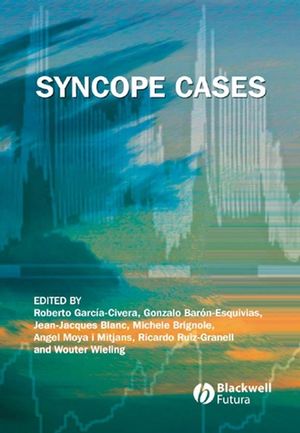 Syncope Cases
ISBN: 978-0-470-99501-3 November 2007 Wiley-Blackwell 344 Pages
Description
This book presents a unique collection of clinical cases to help combat the difficulty of diagnosis and treatment of Syncope. Medical professionals using this book are provided with a reference to a large array of succinctly described and illustrated clinical scenarios. Each case is presented with the results of appropriate tests and critical comments about the evaluation, diagnosis and treatment according to guidelines.


Syncope is considered a difficult diagnostic and treatment problem for all who work in the field. Regardless of your prior knowledge, you will find the case studies easy to digest, enlightening, and immediately pertinent to improving the care patients – giving you confidence in your diagnosis and your advice.


The editors have developed a lively and easy-to-read book with a focused expert editorial commentary, offering the reader a broader and easily understood context for each case, as well as key citations from the literature.


Syncope Cases is a valuable contribution to your collection; edited by seven prominent authorities on the management of syncope from four countries, with more than 130 contributors, this book provides a unique additional step in the fostering of a better understanding of the many factors that can cause syncope, with the ultimate goal of facilitating the delivery of more precise and cost-effective care for syncope patients. It is a contribution that should be widely read, and one that offers the possibility of distinctly enhancing medical care of the syncope patient.
Part I Neurally mediated (reflex) syncope
.
Clinical presentation.
1 Vasovagal fainting in children and teenagers.
2 Typical vasovagal syncope (blood/injury phobia).
3 Reflex syncope in older adults.
4 Transient loss of consciousness with muscle jerks: syncope or epilepsy?.
5 Tilt-induced syncope: mixed response.
6 Tilt-induced syncope: cardioinhibitory response.
7 Tilt-induced syncope: purely vasodepressor response.
8 Tilt-induced syncope: dysautonomic response.
9 Tilt-induced syncope: chronotropic incompetence.
10 Syncope and postural orthostatic tachycardia syndrome.
11 Electroencephalography recordings during syncope.
12 Psychogenic reaction during tilt-table testing.
13 Neuromediated syncope presenting as a paroxysmal atrioventricular block.
14 Multiple manifestations of the cardioinhibitory mechanism detected during prolonged electrocardiographic monitoring.
15 Neuromediated syncope masquerading as unexplained falls.
16 Post-exercise vasovagal syncope.
17 Post-exercise neuromediated syncope.
18 Vasovagal syncope interrupting sleep.
19 Syncope during pregnancy.
20 A pilot with vasovagal syncope: fit to fly?.
21 Recurrent syncope in a patient with no structural heart disease and a negative tilt-table test.
22 Swallow syncope associated with asystole.
23 Swallow syncope presenting with atrioventricular block.
24 Transient glossopharyngeal syncope.
25 Tussive syncope.
26 Laughter-induced syncope.
27 Syncope and the eye.
Treatment.
28 Long-term follow-up of vasovagal syncope with a long asystolic pause.
29 Averting a vasovagal faint with a combination of leg crossing and muscle tensing.
30 Vasovagal syncope averted using arm-tensing maneuvers.
31 Training patients in physical countermaneuvers using continuous on-screen blood-pressure monitoring.
32 Vasovagal syncope treated with tilt training.
33 Psychological treatment of malignant vasovagal syncope due to blood phobia.
34 Syncope relapse in a patient with cardioinhibitory neuromediated syncope treated with pacing.
Carotid sinus syndrome.
35 Carotid sinus syndrome.
36 Carotid sinus hypersensitivity only during tilting.
37 Complex cardioinhibitory neurally mediated syncope.
38 Carotid hypersensitivity syndrome secondary to neck tumor.
39 Syncope in a case of carotid body paraganglioma.
40 Recurrent syncope in a carotid sinus patient treated with a pacemaker.
41 Unexplained falls in older patients.
Part II Orthostatic hypotension.
42 Initial orthostatic hypotension as a cause of syncope in an adolescent.
43 Initial orthostatic hypotension and syncope due to medications in a 60-year-old man.
44 Initial orthostatic hypotension induced by standing up from squatting.
45 Self-induced syncope: the fainting lark.
46 Self-diagnosis of orthostatic hypotension in a patient with autonomic failure.
47 Unexplained transient loss of consciousness in a 58-year-old man after Legionella pneumonia.
48 Physical maneuvers that reduce postural hypotension in autonomic failure.
49 Disabling orthostatic hypotension caused by sympathectomies for hyperhidrosis.
50 Orthostatic hypotension due to arterial baroreflex failure.
51 Hypotension due to straining in a patient with a high spinal-cord lesion.
52 Orthostatic hypotension and syncope in a patient with pheochromocytoma.
Part III Arrhythmic syncope.
53 Syncope and the Brugada syndrome.
54 Two types of monomorphic ventricular tachycardia as a cause of syncope in Brugada syndrome.
55 Syncope and Brugada-like electrocardiography pattern appearing during a febrile illness: neurally mediated or arrhythmic syncope?.
56 Syncope in a case of acquired long QT syndrome.
57 Syncope due to torsade de pointes in an HIV-infected patient receiving methadone treatment.
58 Congenital long QT syndrome.
59 Long QT syndrome revealed by exercise.
60 Congenital long QT syndrome: torsade de pointes demonstrated by prolonged monitoring.
61 Short-coupled variant of torsade de pointes.
62 Syncope in a patient with a short QT interval.
63 Syncope in a woman with no heart disease, a normal electrocardiogram, and a family history of sudden death.
64 Palpitations and syncope: an unusual case of bradycardia–tachycardia syndrome.
65 Arrhythmic syncope in a child: catecholaminergic ventricular tachycardia.
66 Adenosine triphosphate-sensitive paroxysmal atrioventricular block.
67 Adenosine-dependent syncope?.
68 Syncope due to paroxysmal junctional tachycardia.
69 Syncope in a patient with atrioventricular nodal reentry tachycardia: reflex hypotension? 197.
70 Arrhythmic and neuromediated syncope in a young woman.
71 Syncope and Wolff–Parkinson–White syndrome: atrial fibrillation with rapid ventricular response.
72 Wolff–Parkinson–White syndrome with unapparent preexcitation in sinus rhythm: atrial flutter with 1 : 1 atrioventricular conduction.
73 Syncope in a patient with atrial fibrillation: reflex hypotension?.
74 Neuromediated syncope inducing atrial fibrillation.
75 Effort presyncope due to idiopathic right ventricular tachycardia.
76 Syncope due to idiopathic left ventricular tachycardia.
77 Syncope and arrhythmogenic right ventricular dysplasia.
78 Unexpected electrophysiology study result in a patient with repeated syncopal episodes.
79 Syncope in a patient with right bundle-branch block and alternating anterior and posterior left fascicular block.
80 Vasovagal syncope in a patient with bundlebranch block.
81 Intermittent atrioventricular block suggested by an electrophysiological study.
82 Syncope in a patient with bundle-branch block and negative electrophysiological study.
83 Syncope in a patient with bundle-branch block and previous myocardial infarction.
84 Syncope in a case of left bundle-branch block treated with an implantable defibrillator and biventricular pacing.
Part IV Syncope and cardiovascular disease.
85 Acute coronary syndrome presenting as syncope.
86 Syncope as an isolated manifestation of left main coronary artery occlusion.
87 Syncope in a patient with myocardial infarction.
88 Acute myocardial infarction and complete heart block: early revascularization procedure.
89 Syncope in chronic ischemic heart disease: ventricular tachycardia induced during an electrophysiological study.
90 Syncope in a patient with an earlier myocardial infarction: induction of ventricular fibrillation during electrophysiological testing.
91 Syncope in a patient with dilated cardiomyopathy, a negative electrophysiological study, and poor left ventricular function.
92 Syncope in a patient with obstructive hypertrophic cardiomyopathy and left bundlebranch block.
93 Atrial flutter with 1 : 1 atrioventricular conduction in a patient with hypertrophic cardiomyopathy.
94 Syncope in hypertrophic cardiomyopathy, atrial fibrillation, and rapid ventricular response.
95 Syncopal ventricular tachycardia in a case of midseptal hypertrophic cardiomyopathy with apical aneurysm.
96 Carcinoid syndrome.
97 Syncope and myotonic dystrophy,.
98 Syncope in a patient with Kearns–Sayre syndrome.
99 Syncope in aortic stenosis.
100 Syncope after aortic valve replacement.
101 Syncope in a patient with aortic valve prosthesis and wide QRS tachycardia.
102 Presyncope due to left atrial myxoma.
103 Syncope due to left atrial thrombus.
104 Cardiac tamponade presenting as syncope.
105 Syncope in acute aortic dissection.
106 Pulmonary embolism presenting as syncope.
107 Subclavian steal syndrome as a cause of syncope.
108 Multiple malignant causes of syncope in a young girl.
Index
Unique collection of clinical cases to help combat the difficulty of diagnosis and treatment


Each case includes: results of tests; critical comments about the evaluation; diagnosis and treatment according to current guidelines