Syncope and Transient Loss of Consciousness: Multidisciplinary Management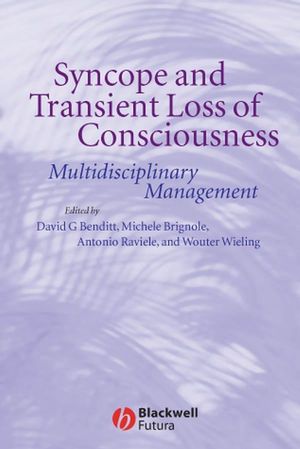 Syncope and Transient Loss of Consciousness: Multidisciplinary Management
ISBN: 978-0-470-69263-9 April 2008 Wiley-Blackwell 208 Pages
Description
Syncope is one of the most important causes of transient loss of consciousness, and is such a common event that it may be encountered by practitioners in virtually any field of medicine. As such, a broad spectrum of healthcare professionals may be involved in its assessment and management.


Edited by distinguished individuals whose pioneering work in syncope highlights careers devoted to improving patient care, this book provides:
• Succinct, practical and up-to-date guidance on the optimal clinical evaluation and treatment of patients with syncope and transient loss of consciousness in a multidisciplinary framework
• Evidence-based recommendations founded on comprehensive literature review and extensive clinical experience by expert contributors
• Meaningful clinical tips for appropriate use of guidelines in clinical practice
• Key recent citations


Building on the European Society of Cardiology Syncope Guidelines, this book provides a clear evaluation of the latest recommendations for care of patients with syncope and transient loss of consciousness, with a multidisciplinary focus that makes it equally relevant for general physicians or those specializing in cardiology or neurology.
Contributors.
Preface.
Part 1 Syncope and TLOC overview.
1 Definition and classification of syncope and transient.
loss of consciousness.
Jean-Jacques Blanc.
2 Epidemiologic aspects of transient loss of consciousness/syncope.
Robert S Sheldon, Anna Serletis.
3 Pathophysiology of syncope: postural, neurally-mediated,.
and arrhythmic.
W Wieling.
4 Cerebral perfusion in syncope.
J Gert van Dijk, Roland D Thijs.
5 Risk stratification—impact on diagnostic strategy.
Brian Olshansky.
Part 2 Clinical evaluation strategies.
6 Value and limitations of clinical history in assessing cause of syncope.
Paolo Alboni, Maurizio Dinelli.
7 Emergency department evaluation of transient loss of consciousness/.
syncope.
Franc¸ois P Sarasin.
8 The essential autonomic assessment for evaluating the.
cause of syncope.
Carlos A Morillo, Juan C Guzman.
9 Neurally-mediated reflex syncope: recognition by history and.
clinical testing.
Anna Serletis, Robert S Sheldon.
10 Value and limitations of ambulatory electrocardiographic monitoring.
Andrew D Krahn.
11 Recording ambulatory blood pressure in the syncope and.
TLOC evaluation.
Dietrich Andresen.
12 Electrophysiologic testing: value and limitations in the transient loss of.
consciousness/syncope evaluation.
Suneet Mittal.
13 Intolerance to upright posture in autonomic failure and the postural.
tachycardia syndrome: assessment and treatment strategies.
Christopher J Mathias.
14 Improving tolerance to upright posture: current status of tilt-training.
and other physical maneuvers.
Hugo Ector, Tony Reybrouck.
15 Syncope in patients with bundle-branch block and other conduction.
system abnormalities.
Angel Moya.
Part 3 Specific conditions.
16 Treatment strategies in neurally-mediated reflex syncope: effectiveness of.
drugs, pacing, and physical maneuvers.
Richard Sutton.
17 Structural heart disease, syncope, and risk of sudden death: selection of.
patients for implantable cardioverter-defibrillator therapy.
Kathy L Lee, Hung-Fat Tse, Chu-Pak Lau.
18 Channelopathies as a cause of syncope.
T Boussy, Pedro Brugada.
19 Distinguishing seizures and pseudosyncope from syncope.
Adam P Fitzpatrick.
20 Syncope and transient loss of consciousness in children and adolescents:.
congenital and acquired conditions.
Hugh Calkins.
21 Transient loss of consciousness, syncope, and falls in the elderly.
Rose Anne Kenny.
22 Drug-induced (iatrogenic) syncope.
Gerald V Naccarelli.
Part 4 Economic and research aspects.
23 Syncope and the competitive athlete: recommendations for evaluation.
and permission to compete.
Franco Giada, Antonio Raviele (Ospedale Umberto I).
24 Role of syncope management units.
Win K Shen, Michele Brignole (Ospedali del Tigullio).
25 The impact of syncope and transient loss of consciousness on.
quality of life.
Blair P Grubb.
Part 5 Current controversies and future directions.
26 Driving and flying restrictions for the syncope and/or implanted.
cardiac device patient.
Christina M Murray, Dwight W Reynolds.
27 Clinical trials landscape: what's new, what's ongoing, what do.
we need.
Michele Brignole (Ospedali del Tigullio), David G Benditt (University of Minnesota Medical School), Wouter Wieling (Academic Medical Centre).
28 Syncope and transient loss of consciousness: multidisciplinary.
management.
A John Camm.
29 Syncope practice guidelines initiative.
David G Benditt (University of Minnesota Medical School).
Appendix: syncope consortium members.
Index
● The next step in developing guidelines for syncope management
● Takes the next step toward developing multidisciplinary practice guidelines for managing the broad variety of conditions associated with transient loss of consciousness (TLOC), including syncope
● Expert contributors address specific aspects of the current ESC Guidelines to give clear evaluations of suggested changes
● Draws on published literature and the authors professional experience