Synthesis of Naturally Occurring Nitrogen Heterocycles from Carbohydrates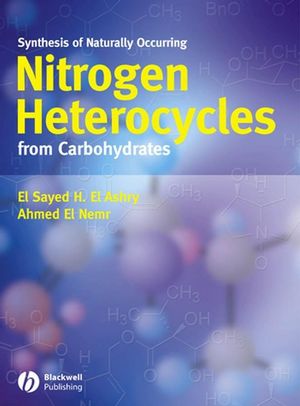 Synthesis of Naturally Occurring Nitrogen Heterocycles from Carbohydrates
ISBN: 978-1-405-14479-7 April 2008 Wiley-Blackwell 464 Pages
Download Product Flyer
Download Product Flyer
Download Product Flyer is to download PDF in new tab. This is a dummy description. Download Product Flyer is to download PDF in new tab. This is a dummy description. Download Product Flyer is to download PDF in new tab. This is a dummy description. Download Product Flyer is to download PDF in new tab. This is a dummy description.
Description
Carbohydrates are widely distributed in nature and widely available, and so are considered as a promising feedstock for the preparation of many organic chemical compounds. They are particularly useful in the preparation of nitrogen heterocycles because of their related structural characteristics and easy availability.
Synthesis of Naturally Occurring Nitrogen Heterocycles from Carbohydrates will review the recent literature dealing with use of carbohydrates as raw materials in the synthesis of these materials. The text contains six chapters arranged according to the complexity of the heterocyclic compounds discussed, ranging from five to seven membered rings and from single to multiple fused rings. The book provides a detailed discussion of the various synthetic approaches to these compounds, using carbohydrate starting materials, and does not merely reference synthetic methodology but attempts to give as much detail as possible on the actual experimental conditions used, in such a way that the chemist can use the information directly to design a multi-step synthesis. It discusses the different approaches to the synthesis of a wide range of naturally occurring nitrogen heterocycles in a format that enables the reader to make comparisons and decisions on whether to use a certain procedure, to modify it, or to devise a new synthetic methodology.
Table of contents
Chapter 1 Five Membered Nitrogen Heterocycles
.
1.1 Hydroxymethylpyrrolidines.
2-Hydroxymethyl-pyrrolidines.
Dihydro-2-hydroxymethylpyrrole (Nectrisine).
2,5-Dihydroxymethyl-pyrrolidines.
1.2 2-Carboxypyrrolidines.
Hydroxyprolines.
Bulgecins.
1.3 2-Aralkyl pyrrolidines.
Anisomycin.
Preussin.
1.4 2-Aryl pyrrolidines.
Codonopsinine and Codonopsine.
1.5 Miscellaneous.
Detoxins.
Gualamycin.
Lactacystin.
Chapter 2 Five Membered Heterocycles with two Heteroatoms.
2.1 Hydantocidin.
2.2 Bleomycin.
2.3 Calyculins.
2.4 Acivicin.
2.5 Bengazole.
Chapter 3 Six Membered Nitrogen Heterocycles.
3.1 Hydroxymethylpiperidines.
Nojirimycin.
Mannojirimycin.
Galactonojirimycin.
Fagomine.
Homojirimycins.
3.2 Miscellaneous substituted piperidines.
2,6-Disubstituted-3-hydroxypiperidines.
Hydroxylated pipicolic acid.
Sesbanimide.
Siastatin.
Meroquinene.
Pyridyl of pyridomycin.
Chapter 4 Seven Membered Nitrogen Heterocycles.
4.1 Bengamides.
4.2 Liposidomycins.
Chapter 5 Fused Nitrogen Heterocycles.
5.1 3:5-Fused Heterocycles.
Azinomycins.
5.2 4:5-Fused Heterocycles.
b-Lactams.
5.3 5:5-Fused Heterocycles.
Polyhydroxypyrrolizidines.
Trehazolin.
Allosamidin.
Biotin.
5.4 5:6-Fused Heterocycles.
Hydroxylated indolizidines.
Castanospermine.
Swainsonine.
Lentiginosine.
Slaframine.
Miscellaneous.
Kifunensine.
Nagastatin.
Calystegines.
Mesembrine.
Streptolidine.
55 6:6-Fused Heterocycles.
Hydroxylated Quinuclidines.
Biopterins.
Isoquinolines.
Calycotomine.
Decumbenosine.
Laudanosine and glaucine.
Chapter 6 Multi-fused heterocycles.
6.1 Indoloquinolizidines.
Xylopinine.
Antirhine.
Allo-Yohimbane.
Ajmalicine.
6.2 Indolocarbazole Alkaloids.
6.3 Phenanthridone alkaloids.
6.4 Ecteinascidins
Reviews
"The book is well organised and consists of 6 chapters, each of which is devoted to a particular class of nitrogen heterocycles ... .The book provides the reader with a wealth of detail on each synthesis, with the schemes "supported" by as much detail as could be expected on the experimental conditions used. Overall the book is a valuable source of information for those involved in the synthesis of nitrogen heterocycles and with a wealth of information and good indexes" [This book is] Recommended if you are involved in the field."
Organic Process Research and Development Journal<!--end-->
"The authors have done a wonderful job of collating and making sense of this diverse area of chemical literature. In summary, this is a superb book. I am unlikely to read whole chapters in a single sitting, but I will be browsing if for years to come, learning something new every time. Everyone who is interested in the synthesis of nitrogen heterocycles should have access to this book." Mark Elliot , Lecturer in Organic Chemistry at the School of Chemistry, Cardiff University, UK

"The volume represents an enormous amount of synthetic work that is very carefully reviewed on more than 420 pages."
Synthesis
Features
* Provides a detailed review of the recent literature on this topic so the reader does not have to engage in expensive and time consuming literature searching
* Provides detailed comparisons of various synthetic approaches using carbohydrate starting materials, helping the chemist to quickly appreciate the strengths and weaknesses of a particular approach.

* Includes the main experimental details employed in the synthesis, helping the chemist to employ the same experiments in their own work