Synthetic Biology: Industrial and Environmental Applications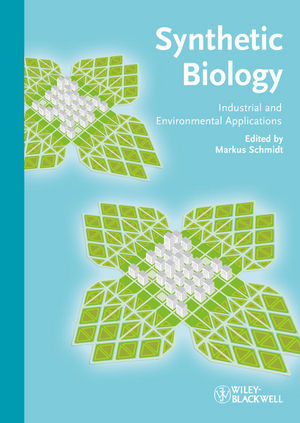 Synthetic Biology: Industrial and Environmental Applications
ISBN: 978-3-527-33183-3 August 2012 Wiley-Blackwell 266 Pages
Description
This is the only book to focus on industrial and environmental applications of synthetic biology, covering 17 of the most promising uses in the areas of biofuel, bioremediation and biomaterials. The contributions are written by experts from academia, non-profit organizations and industry, outlining not only the scientific basics but also the economic, environmental and ethical impact of the new technologies.
This makes it not only suitable as supplementary material for students but also the perfect companion for policy makers and funding agencies, if they are to make informed decisions about synthetic biology.
Largely coordinated by Markus Schmidt, a policy adviser, and the only European to testify in front of the bioethics commission of the Obama administration.

Table of contents
Executive Summary (M. Schmidt)
Introduction (M. Schmidt)
Biofuels (M. Schmidt, M. Porcar, V. Schachter, A. Danchin, I. Mahmutoglu)
Bioremediation (I. Mahmutoglu, L. Pei, M. Porcar, R. Armstrong, M. Bedau)
Biomaterials (L. Pei, M. Morange, R. Armstrong, A. Danchin, M. Porcar)
Other Developments in Synthetic Biology (R. Armstrong, M. Bedau, M. Schmidt)
Regulatory Frameworks for Synthetic Biology (L. Pei, S. Bar-Yam, J. Byers-Corbin, R. Casagrande, F. Eichler, A. Lin, M. Österreicher, P.C. Regardh, R.D. Turlington, K.A. Oye, H. Torgersen, M. Schmidt, Z.-J. Guan, W. Wei)
Appendix
References
Index