Synthetic Biology: Parts, Devices and Applications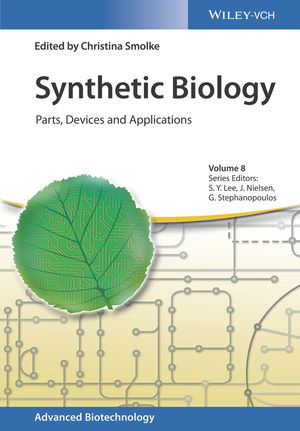 Synthetic Biology: Parts, Devices and Applications
ISBN: 978-3-527-33075-1
May 2018
432 pages
Description
A review of the interdisciplinary field of synthetic biology, from genome design to spatial engineering

Written by an international panel of experts, Synthetic Biology draws from various areas of research in biology and engineering and explores the current applications to provide an authoritative overview of this burgeoning field. The text reviews the synthesis of DNA and genome engineering and offers a discussion of the parts and devices that control protein expression and activity. The authors include information on the devices that support spatial engineering, RNA switches and explore the early applications of synthetic biology in protein synthesis, generation of pathway libraries, and immunotherapy.

Filled with the most recent research, compelling discussions, and unique perspectives, Synthetic Biology offers an important resource for understanding how this new branch of science can improve on applications for industry or biological research.

Advanced Biotechnology
Biotechnology is a broad, interdisciplinary field of science, combining biological sciences and relevant engineering disciplines, that is becoming increasingly important as it benefits the environment and society. Recent years have seen substantial advances in all areas of biotechnology, resulting in the emergence of brand new fields. To reflect this progress, Sang Yup Lee (KAIST, South Korea), Jens Nielsen (Chalmers University, Sweden), and Gregory Stephanopoulos (MIT, USA) have joined forces as the editors of a new Wiley-VCH book series. Advanced Biotechnology will cover all pertinent aspects of the field and each volume will be prepared by eminent scientists who are experts on the topic in question.
1 -
DNA synthesis and genome engineering
1.1 Competition and the Future of Reading and Writing DNA
1.2 Trackable multiplex recombineering (TRMR) and next-generation genome design technologies
1.3 Site-directed genome alteration with engineered recombinases/ZFs
1.4 Rational efforts to streamline the E. coli genome
1.5 Functional requirements in the program and the cell chassis for next generation synthetic biology

2 -
Parts and devices supporting control of protein expression and activity
2.1 Constitutive and regulated promoter engineering
2.2 Splicing and Alternative Splicing Impact on Gene Design
2.3 Application of RNA interference
2.4 RNA switches
2.5 Programming Gene Expression by Engineering Transcript Stability Control and Processing in Bacteria
2.6 Standardized functional peptides and their application in superfunctionalizing proteins

3 -
Parts and devices supporting spatial engineering
3.1 Metabolic channeling using DNA as a scaffold
3.2 Synthetic RNA scaffolds for spatial engineering in cells
3.3 Sequestered: Design and Construction of Synthetic Organelles

4 -
Early applications of synthetic biology: pathways, therapies, and cell-free synthesis
4.1 Cell free protein synthesis: an emerging technology for understanding, harnessing, and expanding the capabilities of biological systems
4.2 Applying Advanced DNA Assembly Methods to Generate Pathway Libraries
4.3 Synthetic Biology in Immunotherapy

05 -
Societal ramifications of synthetic biology
Synthetic Biology: From Genetic Engineering 2.0 to Responsible Research and Innovation