Systems for Offering Concurrent Enrollment at High Schools and Community Colleges: New Directions for Community Colleges, Number 113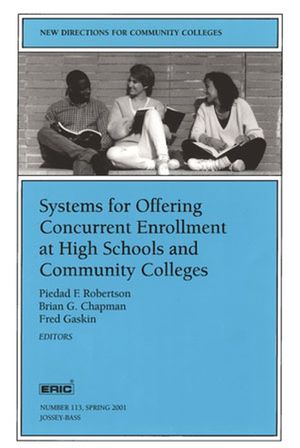 Systems for Offering Concurrent Enrollment at High Schools and Community Colleges: New Directions for Community Colleges, Number 113
ISBN: 978-0-787-95758-2 May 2001 Jossey-Bass 91 Pages
Description
This issue of New Directions for Community Colleges presents practical models and new strategies for creating powerful programs in concurrent enrollment, a rising trend in providing educational opportunities for college coursework to students in high school. The contributors draw from strong statistical data and demonstrate the effectiveness of seamless education with models of successful collaboration in existing programs including the Virginia Plan for Dual Enrollment; the Salt Lake Community College model of curriculum design, faculty development and student success; Ohio's Postsecondary Enrollment Options program; Miami's nationally acclaimed New World School of the Arts; and Columbus State Community College Model for Successful Implementation. Incorporating a comprehensive overview with detailed account of positive legislative actions as well as a valuable sampling of literature in the field, the contributors also explore the core tenets of collaborative education-the view that such education is a continuum; that program course offerings complement the high school curriculum rather than supplant it; and that accessibility, financial support, and academic support services for dual enrollees is crucial. In step-by-step approaches to creating valuable programs, the authors detail all the components necessary for the success and credibility of concurrent enrollment with a focus on the faculty liaisons from appropriate disciplines - along with active involvement of community college department chairpersons, academic deans and chief instructional officers - that provides the framework for an ever-improving concurrent enrollment program. This is the 113th issue of the quarterly journal New Directions for Community Colleges.
1. State Policy and Postsecondary Enrollment Options: Creating Seamless Systems Katherine Boswell.
2. A Model for Implementing a Concurrent Enrollment Program Brian G. Chapman.
3. Designing an Effective Concurrent Enrollment Program: A Focus on Quality of Instruction and Student Outcomes Margaret K. Peterson, John Anjewierden, Cris Corser.
4. Concurrent Enrollment in Arizona: Encouraging Success in High School Donald E. Puyear, Linda M. Thor, Karen L. Mills.
5. Concurrent Enrollment and More: Elements of a Successful Partnership Steven R. Helfgot.
6. Dual Enrollment in Virginia Rhonda K. Catron.
7. New World School of the Arts: Creativity Across the Curriculum Nancy M. Wolcott.
8. Dual Enrollment for Underrepresented Student Populations Esther B. Hugo.
9. Dual Enrollment Options: Columbus State Community College Model for Successful Implementation Tammi C. Jordan.
10. Sources and Information: Creating Effective Collaboration Between 81 High Schools and Community Colleges Gigi G. Gomez.