T-Mobile G1 For Dummies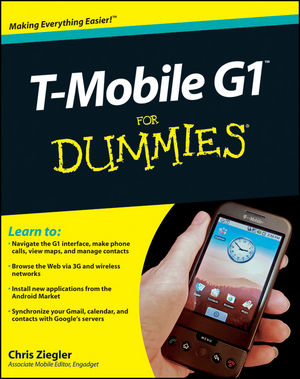 T-Mobile G1 For Dummies
ISBN: 978-0-470-50526-7
Feb 2009
336 pages
Description
Excited about the new Google phone? T-Mobile's G1 android phone is packed with possibilities, and T-Mobile G1 For Dummies will help you make the most of them.

This fun and friendly guide shows you how to navigate the G1's android interface, make phone calls, view maps, manage contacts, browse the Web, and a whole lot more. Your T-Mobile G1 is so much more than a phone—it's also an administrative assistant, movie theater, jukebox, mobile office, and several more things all rolled into one device. With T-Mobile G1 For Dummies, you can:
Find out all about the Android smartphone operating system and what it offers
Learn your way around the G1's keyboard, buttons, and touch screen
See how your G1 connects to both Wi-Fi networks and T-Mobile's high-speed network
Surf the Web, download music and picture files, and tweak browser settings
Send and receive Gmail, get where you're going with Google Maps, and stay organized with Google Calendar
Take photos, check out YouTube, and fill your phone with media
Manage your e-mail and choose which messages will be synced to your phone
Shop the Android Market and discover more cool apps for your G1
Don't waste a single cool feature of your T-Mobile G1! T-Mobile G1 For Dummies shows you how to use all the great Google functions, play (and even buy) music, browse the Web, add apps, and more.
Introduction
.
Part I: Introducing Android and the T-Mobile G1.
Chapter 1: Google: What's Good in Your PC Is Good in Your Pocket.
Chapter 2: Powering On and Getting Around.
Chapter 3: The Home Screen and Status Bar.
Chapter 4: Making and Receiving Calls and Text Messages.
Part II: Putting the "Google" in Google Android.
Chapter 5: Searching.
Chapter 6: Using Gmail and Other E-Mail Services.
Chapter 7: Navigating with Google Maps.
Chapter 8: Contacts.
Chapter 9: Calendar.
Part III: Making the G1 Part of Your Life.
Chapter 10: Browsing the Web.
Chapter 11: Working with and Taking Pictures.
Chapter 12: Instant Messaging.
Chapter 13: Rock Out with the G1's Music Player.
Chapter 14: Best of the Rest: Alarm Clock, Calculator, and YouTube.
Chapter 15: The Settings Application.
Part IV: Adding Software and Media.
Chapter 16: Buying Music with Amazon MP.
Chapter 17: Filling Your Phone with Media.
Chapter 18: The Android Market.
Part V: The Part of Tens.
Chapter 19: Ten Great Android Applications.
Chapter 20: Ten Accessories for Your G1.
Chapter 21: Ten Great Sites for Android Information.
Chapter 22: Ten Must-Play Android Games.
Index.