Talk and Social Structure: Studies in Ethnomethodology and Conversation Analysis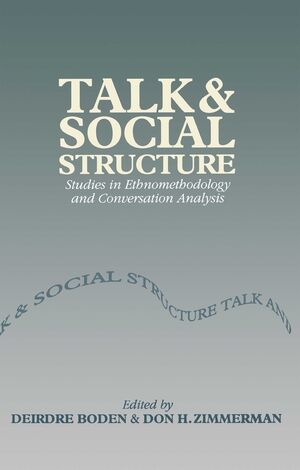 Talk and Social Structure: Studies in Ethnomethodology and Conversation Analysis
ISBN: 978-0-745-61240-9 September 1993 Polity 320 Pages
Description
Talk and Social Structure is an up-to-date and provocative survey of current developments combining the complementary fields of ethnomethodology and conversation analysis. The book provides a distinctive debate that relates these innovative areas to important issues in the social sciences.

Including contributions from many of the world leaders in these fields, the book offers both new theoretical depth and an extensive range of empirical studies that focus on the reflexive relation of everyday talk and social structure. Contributors include Emanuel A. Schegloff, John Heritage, Thomas P. Wilson, Hugh Mehan, Douglas W. Maynard, George Psathas, Paul ten Have, Robert Hopper, Hanneke Houtkoop-Steenstra, Graham Button, and David Greatbatch, with a thematic chapter from the editors. Through the use of many examples, they demonstrate that studies of talk are important in their own right, while also having fundamental theoretical significance for social analysis.
Preface.
Introduction.
1. Structure in Action: An Introduction: Don H. Zimmerman and Deirdre Boden.
Part I. Current Debates:.
2. Social Structure and the Sequential Organization of Interaction: Thomas P. Wilson.
3. Reflections on Talk and Social Structure: Emanuel A. Schegloff.
4. The School's Work of Sorting Students: Hugh Mehan.
Part II. Talk and Institutions:.
5. On the Institutional Character of Institutional Talk: The Case of News Interviews: John Heritage and David Greatbatch.
6. Talk and Institution: A Reconsideration of the 'Asymmetry' of Doctor-Patient Interaction: Paul Have.
7. Perspective-Display Sequences and the Delivery and Receipt of Diagnostic News: Douglas W. Maynard.
Part III. Structure in Action:.
8. The Structure of Direction-Giving in Interaction: George Psathas.
9. Hold the Phone: Robert Hopper.
10. Opening Sequences in Dutch Telephone Conversations: Hanneke Houtkoop-Steenstra.
11. Conversation-in-a-Series: Graham Button.
Appendix I: Transcription Notation.
Notes on Contributors.
References.
'Boden and Zimmerman's collection takes us to the forefront of exploration of this terrain.'
Randall Collins, University of California
'This is a collection of powerful studies. It embraces the major and criterial debates in ethnomethodology and conversation analysis ... this volume contains studies which will stand as 'state of the art' in these debates - studies whose authors are leading international figures in the field.' Rod Watson, University of Manchester
'A rich collection of empirical studies which not only make an important contribution to our understanding of language use and social interaction, but also illuminate some of the current debates between the so-called micro and macro approaches to the analysis of social action.' Christian Heath, University of Surrey
'An excellent overview ... one could not ask for a more provocative and exciting collection of papers on a problem that is central to the social scientific enterprise.' Discourse and Society
'This is an excellent collection which attempts to explore fundamental features of social analyses.' Language and Education
Introduces new and original approaches to the debate on talk and social structure
The contributors include many internationally recognized scholars in the field.