Talking about Health: Why Communication Matters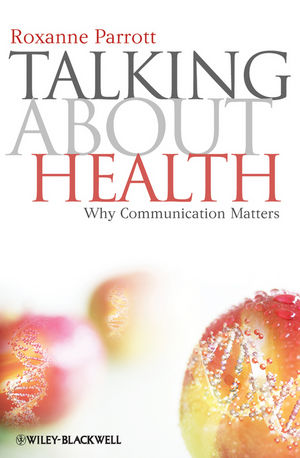 Talking about Health: Why Communication Matters
ISBN: 978-1-444-31083-2 April 2009 Wiley-Blackwell 208 Pages
Description
Written by an award-winning researcher and professor whose work straddles the fields of communication and healthcare,
Talking About Health
explores the importance of health communication in the 21st century, and how it affects us all.
Organized around six key questions about health and communication:  How 'Normal' am I? What are My 'Risk' Factors? Why Don't We Get 'Care'? Is the Public Good 'Good' for Me? Who Profits from My Health? and What's Politics Got to Do with It?
Provides readers with specific tools which which to better navigate the healthcare system
Translates what we know about communication and health into useful guidelines for everyday practice
Includes discussions of politics and healthcare, genetic testing, and alternative care
The author's blog http://whyhealthcommunication.com/whc_blog/ focuses on why communicating about health can make a difference in our health and our quality of life
Table of contents
Preface.
1. Why Communicating about Health Matters.
It Answers the Question, "Who Am I?"
It Answers the Question, "Who's Responsible?"
It Opens the Gate for "Resources"
It Promotes (Mis)Understanding
It Guides Effort, Emotion, and Excuse
Summing It Up …
2. How "Normal" Am I?
Compared to the Numbers
Compared to the Stories
When It Comes to Poor Health
When Choosing Alternative Treatments
When We Don't Want to Know
Summing It Up …
3. What Are My "Risk" Factors?
Our Response to Reward Cues
Our Response to Punishment Cues
How We View Novelty
When We Procrastinate
What God Has to Do with It
Summing It Up …
4. Why Don't We Get "Care"?
Our Doctors Didn't Recommend It
Family or Friends Don't Support It
We Use Support Networks
We're Managing Impressions
We're too Optimistic or Fatalistic
Summing It Up …
5. Is the "Public Good" Good for Me?
When We Have to "Tell"
When Our Freedoms Are Limited
When Safety Clashes with (E)Quality
What Nonprofits Have to Do with It
Why Public Health Matters
Summing It Up …
6. Who Profits from My Health?
Pharma-, Cosme-, and Nutri-ceuticals
The News, It Is an Industry
The Entertainment Industry
Band-Aids, Crutches and More – Oh My!
Who Benefits from Our Health Illiteracy?
Summing It Up …
7. What's Politics Got to Do with It?
Medical Research and Disparities
Political Agenda-setting and Priorities
Religious Agendas and Priorities
Medical Associations and Lobbyists
Patient Advocacy
Summing It Up …
8. An Agenda for the Twenty-first Century: Increase Informed Choice and Consent, or "If I Ran the Circus …"
Make "Personalized Medicine" Personal
Be Timely in the Telling
Fill in the Blanks
Track Your Health Report (… and Your Credit Report, Too)
Stay Out of "The Big Muddy"
Summing It Up …
A Final Thought
References.
Index.
Reviews
"The book is an engaging, informative read that packages health communication issues in a unique and usable way. Personal, informative, comprehensive, and integrated." (Taylor Francis Online, 19 January 2011)
"This book has the added bonus of educating people about palliative care, including how to develop an advanced directive, the way to maintain a "health report," and how to manage one's health profile. It offers multiple references for each chapter that would be helpful to readers wanting more detailed information. Additionally, it could also assist health care professionals who want to increase their communication skills." (CHOICE, December 2009)"Parrot melds her expertise in communications and health policy and administration … .Accessible and full of Parrot family anecdotes." (The Penn Stater, January 2010)
"Roxanne Parrott's thoughtful treatment of 'why communication matters' identifies challenges and opportunities in 'talking about health' during this time of increasing consumer engagement and responsibility in health and health care." (PsycCRITIQUES, November 2009)
What's New
Presents 30 specific actions that each of us can take to improve our personal outcomes linked to communicating about health
Provides readers with specific tools which which to better navigate the healthcare system
Translates what we know about communication and health into useful guidelines for everyday practice
Organized around six key questions about health and communication
Includes discussions of politics and healthcare, genetic testing, and alternative care
The author's blog http://whyhealthcommunication.com/whc_blog/ focuses on why communicating about health can make a difference in our health and our quality of life