Tartaric and Malic Acids in Synthesis: A Source Book of Building Blocks, Ligands, Auxiliaries, and Resolving Agents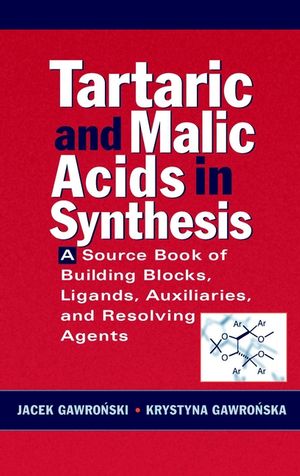 Tartaric and Malic Acids in Synthesis: A Source Book of Building Blocks, Ligands, Auxiliaries, and Resolving Agents
ISBN: 978-0-471-24451-6
Feb 1999
616 pages
Description
The many exciting advances made in asymmetric synthesis over the past two decades have been due, in great part, to applications of tartaric and malic acid derivatives. Because of their unparalleled usefulness in synthesizing nonracemic acyclic and heterocyclic compounds, tartaric and malic acids are now considered indispensable "tools of the trade" for chemists working in natural products, fine chemicals, and pharmaceutical research.

Tartaric and Malic Acids in Synthesis provides chemists with a concise, yet comprehensive, review of the chemical properties and synthetic applications of derivatives of tartaric and malic acids. Intended as a source of information and inspiration, it contains a gold mine of ideas on the use of tartaric and malic acids in synthesis not only as chiral building blocks, but as chiral ligands, auxiliaries, and resolving agents as well. Throughout, the primary focus is on four-carbon building blocks derived from tartaric and malic acids and their synthetically useful reactions. Designed for ready reference, this book follows a simple, hierarchical organization-moving from derivatives of carboxy groups to derivatives of hydroxy groups, and, finally, to products of reduction of the carboxy groups-and includes:
* Hundreds of reaction schemes and figures.
* More than 70 tables with data and references for 2,000 compounds.
* Over 2,500 references to primary, secondary, and patent literature sources.

Tartaric and Malic Acids in Synthesis is a valuable working resource for chemists involved in the design of enantioselective syntheses. It is also an excellent supplementary text for graduate students of synthetic organic chemistry and natural products chemistry.
Tartaric Acid and Its Salts.

Tartrates and Their Metal Complexes.

Tartramides, Tartaric Hydrazides and Their Derivatives.

O-Acylated Tartaric Acids and Their Derivatives.

O-Alkylated and O-Silylated Tartaric Acid Derivatives.

Tartrimides.

Derivatives of Tartrates with Activated Hydroxy Groups.

Tartrate Borates and Boronates.

Tartrate Nitrates and Tartrate Modified Phosphorous Compounds.

Acetals of Tartaric Acid Derivatives.

Tartraldehydes.

TADDOLs, Their Complexes and Related Compounds.

Threitol and Its Derivatives.

Threonic Acid.

Malic Acid, Its Anhydride, and O-Protected Derivatives.

Malates and Their O-Protected Derivatives.

Malamides and Malimides.

2,4- and 3,4-Dihydroxybutanoic Acids.

2,4- and 3,4-Dihydroxybutanals.

1,2,4-Butanetriol and Its Derivatives.

Indexes.