Task-Based Language Learning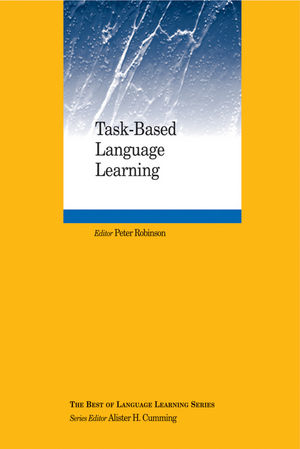 Task-Based Language Learning
ISBN: 978-1-444-35023-4
Jun 2011, Wiley-Blackwell
230 pages
Description
This volume contains papers addressing issues in task-based research into second language learning which are essential to informed pedagogic decision-making about how best to achieve this aim. These issues include research into the design characteristics of pedagogic tasks that promote the accuracy, fluency and complexity of learner language; the role of individual differences in the motivational and other cognitive variables that demands made by pedagogic tasks draw on; the extent to which tasks, and teacher interventions during task performance, promote the quantity and quality of interaction that facilitate L2 learning; and the generalizability of task-based research in laboratory contexts to classroom settings.
Task Design and Second Language Performance: The Effect of Narrative Type on Learner Output (Parveneh Tavokli & Pauline Foster ) (from 58:2, 439-473, 2008).
Creativity and Narrative Task Performance: An Exploratory Study Agnes (Albert & Judit Kormos) (from 54:2, 277-310, 2004).
The Role of Task-Induced Involvement and Learner Proficiency in L2 Vocabulary Acquisition (YouJin Kim )(from 58:2, 285-325, 2008).
Teacher- and Learner-Led Discourse in Task-Based Grammar Instruction: Providing Procedural Assistance for Morphosyntactic Development (Paul Toth) (from 58:2, 237-283, 2008).
Task-Based Interactions in Classroom and Laboratory Settings Susan Gass, (Alison Mackey & Lauren Ross-Feldman) (from 55:4, 575-611, 2005).
"Overall, this book is a unique effort that is well prepared and worthy of reading for students, researchers and practitioners in the field of second language acquisition and pedagogy."  (Linguist, 26 June 2012)