Taxation for Decision Makers, 2018 Edition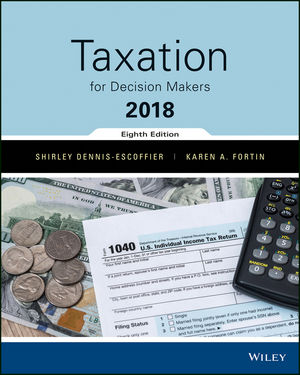 Taxation for Decision Makers, 2018 Edition
ISBN: 978-1-119-37357-5
Jul 2017
664 pages
Description
TRY (FREE for 14 days), OR RENT this title: www.wileystudentchoice.com

Taxation for Decision Makers, 2018 Edition is designed for a one-semester, introductory tax course focused on decision-making at either the undergraduate or graduate level. This text introduces all relevant tax topics covered on the CPA exam, and strikes the perfect balance between concepts and details. Tax concepts and applications are presented in a clear, concise, student-friendly writing style with sufficient technical detail to provide a foundation for future practice in taxation and consulting while not overwhelming the student with seldom-encountered minutia.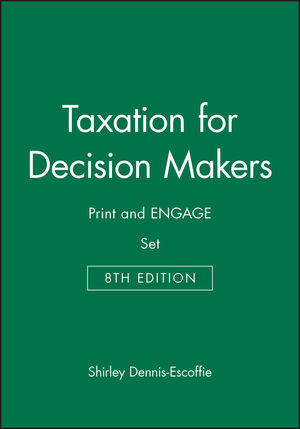 This item: Taxation for Decision Makers, 2018 Edition
Purchased Together:$199.95
Preface
About the Authors
PART I INTRODUCTION TO TAXATION AND ITS ENVIRONMENT
1 An Introduction to Taxation
2 The Tax Practice Environment
PART II INCOME, EXPENSES, AND INDIVIDUAL TAXES
3 Determining Gross Income
4 Employee Compensation
5 Deductions for Individuals and Tax Determination
PART III BUSINESS AND PROPERTY CONCEPTS
6 Business Expenses
7 Property Acquisitions and Cost Recovery Deductions
PART IV PROPERTY DISPOSITIONS
8 Property Dispositions
9 Tax-Deferred Exchanges
PART V BUSINESS TAXATION
10 Taxation of Corporations
11 Sole Proprietorships and Flow-Through Entities
PART VI WEALTH TAXATION
12 Estates, Gifts, and Trusts
Appendix Selected Tax Tables for 2017
Index
All chapters updated to include relevant changes in tax law including inflation adjustments, new cases, and new rulings through the first quarter of 2017.
Additional examples included with completed tax forms.
All chapters reviewed to ensure that all tax topics tested on the new CPA exam are introduced and adequately addressed in the text.
Chapter 1 revised by incorporating additional coverage of individual taxation to provide adequate background for those classes with primary emphasis on taxation of entities.
Provides broad coverage with supporting detail without getting lost in minutiae
Introduces new concepts through case studies to help students think critically and make important decisions
Covers all tax topics on the CPA exam, giving candidates an additional resource for test preparation
Includes Expanded Topics sections that allow instructors to tailor the level of rigor for each particular class
Instructor Resources include PowerPoint slides, test bank, solutions manual, and instructor's manual featuring exercises, related reading, and notes to accompany PowerPoint lectures
Wiley Engage allows full online access with customization options to suit multiple pedagogical styles, along with student study tools and other relevant resources