Taxonomy and Ecology of Woody Plants in North American Forests : (Excluding Mexico and Subtropical Florida)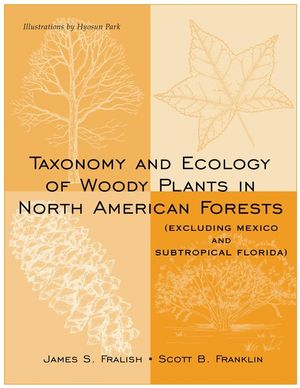 Taxonomy and Ecology of Woody Plants in North American Forests : (Excluding Mexico and Subtropical Florida)
ISBN: 978-0-471-16158-5 February 2002 624 Pages
Description
Thorough, detailed dendrological coverage of North American trees, shrubs, and vines

This comprehensive field guide/procedural handbook provides extraordinarily detailed descriptions of trees, shrubs, and vines of North American forests. Written at a more detailed level than most field guides, it introduces basic taxonomic concepts and methods and explains the rationale behind taxonomic classification systems.

Entries include Latin and common names for each species as well as physical descriptions at various levels of maturity and for different seasons. Also noted are regional and state distributions, soil conditions, cover types, shade tolerances, and common diseases and pests. This remarkably thorough and reliable reference includes:
* Detailed descriptions of more than 800 species
* Hundreds of additional varieties and cultivars
* 550 exquisitely detailed line drawings of leaves, bark, fruit, and seeds
* Broad coverage of commercial and noncommercial species
* An emphasis on the silvical features of each species
* A unique section on forest community ecology and cover types
* The new North American Classification System


Well-organized and practical, this authoritative guide is an immensely useful resource for foresters, wildlife and field biologists, naturalists, environmental scientists, and land managers.
Buy Both and Save 25%!
This item: Taxonomy and Ecology of Woody Plants in North American Forests : (Excluding Mexico and Subtropical Florida)
North American Trees, 5th Edition (Paperback $88.95)
Cannot be combined with any other offers.
Original Price:$297.90
Purchased together:$223.42
save $74.48
Table of contents
Preface.

1. Introduction to Taxonomy.

2. Introduction to Forest Ecology.

Part I: Taxonomic Concepts and Methodology.

3. Plant Classification.

4. Nomenclature.

5. Collecting and Preserving Specimens.

6. Key Construction and Use.

Part II: Gymnosperms (Division Pinophyta).

7. The Gymnosperms: An Overview.

8. Gymnosperm Vegetative and Reproductive Structures.

9. Order: Pinales I: Pinaceae: Pinus.

10. Order: Pinales II: Pinaceae: Larix, Picea, Abies, Tsuga, Pseudotsuga.

11. Order: Pinales III: Cupressaceae.

12. Order: Taxales, Ginkgoales, and Cycadales.

Part III Woody Angiosperms (Division Magnoliophyta)13. The Woody Angiosperms: An Overview.

14. The Woody Angiosperm Leaf.

15. The Woody Angiosperm Twig.

16. Angiosperm Flower and Fruit Structures.

17. Class: Magnoliopsida;
Subclass: Magnoliidae. Magnoliaceae, Annonaceae, Lauraceae, Calycanthaceae, Aristolochiaceae,Illiciaceae, Schisandraceae, Ranunculaceae, Berberidaceae, Menispermaceae.

18. Class: Magnoliopsida;
Subclass: Hamamelidae I. Platanaceae, Hamamelidaceae, Ulmaceae, Moraceae, Juglandaceae,Myricaceae, Casuarinaceae.

19. Class: Magnoliopsida;
Subclass: Hamamelidae II. Fagaceae, Betulaceae.

20. Class: Magnoliopsida;
Subclass: Dilleniidae. Tiliaceae, Salicaceae, Ericaceae, Clethraceae, Cyrillaceae, Sapotaceae,Ebenaceae, Styracaceae, Symplocaceae, Clusiaceae.

21. Class: Magnoliopsida;
Subclass: Rosidae IRosaceae, Fabaceae, Elaeagnaceae, Thymelaeaceae, Hydrangeaceae,Grossulariaceae, Iteaceae, Cornaceae, Garryaceae, Nyssaceae,Aquifoliaceae, Celastraceae, Rhamnaceae, Vitaceae, Araliaceae.

22. Class: Magnoliopsida;
Subclass Rosidae IIAceraceae, Sapindaceae, Anacardiaceae, Hippocastanaceae,Staphyleaceae, Rutaceae, Simaroubaceae.

23. Class: Magnoliopsida;
Subclass: AsteridaeOleaceae, Bignoniaceae, Scrophulariaceae, Rubiaceae,Caprifoliaceae, Adoxaceae.

24. Class: Liliopsida (Monocotyledoneae)Arecaceae, Poaceae, SmilacaceaePart IV: Forest Community Ecology: Combining Species into Communities.

25. Introduction to Forest Ecology and Classification.

26. Forest Environment and Cover Types Regions 1 and 2: Northern Conifer-Hardwoodand Northern Hardwood-Conifer Forests.

27. Forest Environment and Cover Types Region 3: Central Hardwood Forest.

28. Forest Environment and Cover Types Region 4: Southern Pine-Hardwood Forest.

29. Forest Environment and Cover Types Regions 5 and 6: Rocky Mountain Conifer Forests.

30. Forest Environment and Cover Types Region 7: Northern and Southern Coastal Conifer Forests.

Glossary of Technical Terms.

Glossary of Genus and Species Names.

References.

Index of Species.

Subject Index.