Teach Yourself About Shares: A Self-Help Guide to Success on the Sharemarket, Revised Edition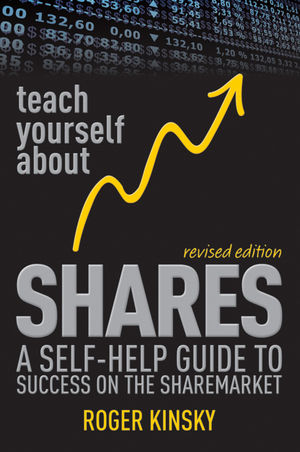 Teach Yourself About Shares: A Self-Help Guide to Success on the Sharemarket, Revised Edition
ISBN: 978-1-118-39535-6 April 2012 Wrightbooks 440 Pages
Description
If you want to learn more about the sharemarket but you're baffled by the rules and jargon — not to mention the price fluctuations — this is the book for you.
Teach Yourself About Shares is the most comprehensive share-investing book on the market. This revised edition of Roger Kinsky's bestseller is a user-friendly guide that will have you maximising your profitability on the sharemarket in no time. Inside you'll discover:
what the different types of shares are, and how to buy and sell them
the positives of share investing and the traps for the unwary
how to judge the market and trade the right shares at the right time
how to set up and manage your share portfolio
why share prices fluctuate, and how to use this knowledge to your advantage
how to tailor your trading strategy to your lifestyle and investment capital
how to minimise your share-investing risks.
Each chapter concludes with practical learning exercises with solutions, enabling you to consolidate your knowledge so you can move on to the next step with confidence. Whether you are just starting out in shares or you're an experienced trader, this book contains everything you need to know to allow you to maximise your profits in the Australian market.
Table of contents
Preface.
1 Stocks and shares.
2 Investing basics.
3 Investing in shares.
4 Profiting from capital gains and dividends.
5 Share prices.
6 Planning your investment in shares.
7 Share issues.
8 Fundamental analysis.
9 Technical analysis.
10 Trading strategies.
11 Buying and selling shares.
12 Using market and sector indices.
13 Protecting your nest egg.
14 Monitoring and improving performance.
15 Wrapping it all up.
Learning exercise solutions.
Index.