Teach Yourself VISUALLY Crafting with Kids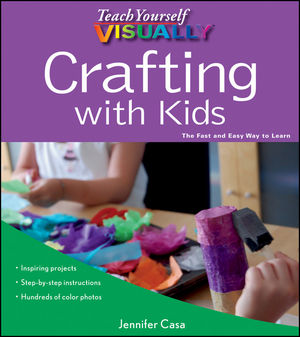 Teach Yourself VISUALLY Crafting with Kids
ISBN: 978-0-470-64370-9
Apr 2011
256 pages
Product not available for purchase
Description
Get creative with kids
Unplugging kids from their MP3 players and game systems for one-on-one family time is a great way to reconnect in today's hectic world. And what better way to spend time together than doing an activity that's not only fun but also promotes creativity and self-expression?
Teach Yourself VISUALLY Crafting with Kids is packed with step-by-step instructions for making crafts throughout the year, from outdoor projects to gifts and party favors to holiday decor to projects that promote learning through play.
75 fun, simple projects for adults to make with kids
Concise, two-page lessons show you all the steps to a skill and are ideal for quick review
Detailed color photos demonstrate each step and helpful tips provide additional guidance
Loaded with easy-to-follow instructions and fun, simple projects, Teach Yourself VISUALLY Crafting with Kids gives parents, caregivers, and teachers the tools they need to make the most of the time they spend with kids.
CHAPTER 1 Kid-Friendly Crafting in Your Home.
What's Your Fabric Sign?
Eggciting Flower Wreath.
Daily Docket.
My Art Box.
Suncatcher Strands.
Patchwork Lanterns.
Great Impression Family Tree.
Mod Mobiles.
Window and Wall Decals.
Letter Tiles.
Smile! You're on the Chore Chart.
CHAPTER 2 Spring Cleaning.
Summer Fun Countdown Calendar.
Beach Towel Duffel Bag.
Dip-Dyed T-Shirts.
Sun-Printed Go Fish Game.
Stamped Garden Markers.
Kid-Sized Garden Gnome.
Marbled Paper.
Stained-Glass Butterflies.
Snowy Citrus Cups.
Whimsical Wind Chimes.
Button Botanicals.
CHAPTER 3 Summer Vacation.
Alphabet Beanbag Toss.
ABC Collage Book.
Felt Board Match-Up.
Flashcards to Go.
Lift-a-Flap Story Book.
Local Leaves Memory Game.
CHAPTER 4 Back to School.
Snowball Fight Wreath.
 Keepsake Draft Snake.
Snowflake Pinwheels.
Birdseed Garland.
Marshmallow Metropolis.
Snowman Softie.
CHAPTER 5 Winter Wonderland.
Glow-in-the-Dark Ghost Wreath.
Flying Ghouls and Bats.
Trick-or-Treat Fortune Teller Game.
Tisket Tasket Fabric Basket.
Moody Pumpkinhead.
Origami Paper Beads.
Hand of Thanks Place Cards.
Felted Wool Marbles.
Advent Tree As Big as Me.
Woven Felted Wool Valentines.
Heart of Hearts Wreath.
Sticky Valentine's Puzzle.
Egg Carton Ducklings and Bunnies.
Color-Washed Newspaper Bouquets.
CHAPTER 6 Happy Holidays.
Mind Your Beeswax Candles.
Felted Wool Soaps.
Peek-a-Boo Watercolor Cards.
Name That Veggie Wrapping Paper.
Wildflower Gift Garden.
Woven Woolies.
CHAPTER 7 Thanks Bunches.
Itty-Bitty Book-in-a-Box.
Party Pencils.
Driveway Doodlers.
Silhouette Charms.
Easiest Play Dough Ever.
Salvaged Scribblers.
Add-a-Button Barrettes and More.
No-Trouble Bubbles and Wands.
CHAPTER 8 Let's Party! 
Upcycled Apartments.
Peg Pals.
Kaleidoscope.
Tic-Tac-Toe to Go.
Road Trip Seek and Find Game.
Floor Mat Hopscotch.
Digital Scavenger Hunt.
Nesting Family.
Fridge Magnet Matchup.
Tabletop Puppet Theater.
Recycling Bin Band.
TP Tube 10-Pin.
Story Puzzle Blocks.
CHAPTER 9 Game Time.
Appendix.
Index.