Teach Yourself VISUALLY Guitar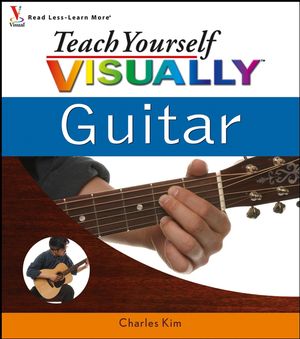 Teach Yourself VISUALLY Guitar
ISBN: 978-0-471-78903-1
Mar 2006
285 pages
Description
Do you learn faster by seeing and doing than by wading through tedious instructions? Then pick up a guitar and start strumming! Teach Yourself VISUALLY Guitar shows you the basics—photo by photo and note by note. You begin with basic chords and techniques and progress through suspensions, bass runs, hammer-ons, and barre chords. As you learn to read chord charts, tablature, and lead sheets, you can play any number of songs, from rock to folk to country. The chord chart and scale appendices are ready references for use long after you master the basics.

Concise two-page lessons show you all the steps to a skill and are ideal for quick review
Each skill, chord, or technique is clearly described
Detailed color photos demonstrate proper fingering and technique
Concise and understandable instructions accompany each photo
Helpful tips provide additional guidance
Chapter 1: Introduction to the Guitar and Learning to Play.
The Versatility of the Guitar.
Hit the Ground Running.
Set Goals for Yourself.
Chapter 2: Parts of the Guitar.
Parts of the Acoustic Guitar.
Parts of the Electric Guitar.
The Headstock and Tuning Pegs of the Guitar.
The Neck of the Guitar.
The Body of the Guitar.
The Bridge of the Guitar.
Types of Guitar Strings.
Electric Guitar Controls.
Chapter 3: Tuning the Guitar.
Standard Tuning of Strings.
Tuning with an Electronic Tuner.
Relative Tuning.
Chapter 4: Getting Into Position.
Sitting Position.
Standing Position.
Fretting Hand Position.
Ways to Avoid Fretting Position Problems.
Picking Hand Position.
Chapter 5: Your First Chords.
How to Read a Chord Chart.
The D Chord.
The A7 Chord.
The G Chord.
Chapter 6: Moving Between Chords.
Economy of Motion.
Chord Shifts with Common Fingering .
Chord Shifts on the Same Fret.
Chord Shifts on the Same String.
Moving Chord to Chord without a Common String.
Chapter 7: Strumming and Picking Technique.
Start Out with Your Thumb.
Play with a Pick.
Fingerpicking.
Chapter 8: Rhythm Guitar.
The Basics of Tempo.
The Basics of 4/4 Time Signature.
4/4 Strumming Patterns.
3/4 Strumming Patterns.
Chapter 9: The Rest of the Open Chords.
A Chords.
B7 Chord.
C Chords.
D Chords.
E Chords.
F Chords.
G Chords.
Chapter 10: How to Read Chord Symbols, Tablature, and Lead Sheets.
Five Common Types of Guitar Chords and Their Symbols.
How to Read Tablature.
How to Play a Song from a Lead Sheet.
More Fingerpicking.
Fingerpicking Patterns You Can Use.
Chapter 11: Suspensions and Bass Runs.
Suspensions.
Suspension Chord Fingerings.
Bass Runs.
Other Bass Runs in the Key of G.
Chapter 12: The Capo and Barre Chords.
How to Use a Capo.
Barre Chord Technique.
Your First Barre Chord: F.
Related Barre Chords: F7, Fm, Fm7.
Moving Up and Down the Neck.
Chapter 13: Chord Progressions.
Figuring Out the Key.
Use Roman Numerals to Show Major and Minor Keys.
Common Chord Progressions.
Chapter 14: An Introduction to Soloing and Improvisation.
The Pentatonic Scale.
Creating Simple Melodies.
Chapter 15: Advanced Techniques.
Slides.
Pull-Offs and Hammer-Ons.
Vibrato and String Bending.
Chapter 16: Purchasing and Maintaining Equipment.
Buying Your First Acoustic Guitar.
Buying Your First Electric Guitar.
Buying Your First Amplifier.
Care and Maintenance of Your Strings.
How to Restring Your Guitar.
The Truss Rod.
Electric Guitar Intonation Adjustments.
Humidification.
Other Maintenance.
Chapter 17: Electric Guitar Sounds.
Controls on Your Electric Guitar.
Controls on Your Amplifier.
Effect Pedals.
Chapter 18: Continuing Your Guitar Education.
Use a Private Teacher.
Why Study Music Theory?
Learn from Other Guitarists.
Some Final Advice.
Appendix A: Chord Charts.
Appendix B: Scales.
Appendix C: Guitar Gallery.
Index.