Teach Yourself VISUALLY Knitting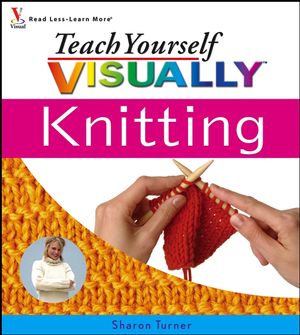 Teach Yourself VISUALLY Knitting
ISBN: 978-0-471-78841-6
Mar 2006
285 pages
Description
Do you learn faster by seeing and doing than by wading through tedious instructions? Then get yourself some yarn and needles and get knitting! Teach Yourself VISUALLYKnitting shows you the basics--photo by photo and stitch by stitch. You begin with the essential knit and purl stitches and advance to bobbles, cables, lace, and fancy color work. With fun, innovative patterns from top knitting designer Sharon Turner, you'll be creating masterpieces in no time!

Concise two-page lessons show you all the steps to a skill and are ideal for quick review
* Each skill or techniqueis defined and described
* Detailed color photos demonstrate each step
* Step-by-step instructions accompany each photo
* Helpful tips provide additional guidance
Chapter 1:
Introduction to Knitting.
Getting Started.
Yarn Types.
How to Read Yarn Labels.
Care Instructions and Symbols.
Needles and Accessories.
Chapter 2: Basic Techniques.
Make a Slipknot.
Cast On: Simple Cast-On.
Cast On: Long-Tail Cast-On.
Hold Needles and Yarn.
Knit: English Method.
Knit: Continental Method.
Purl: English Method.
Purl: Continental Method.
Join New Yarn.
Bind Off.
Chapter 3: Basic Stitch Patterns.
Start with Simple Stitch Patterns.
Learn Rib Patterns.
Try More Complicated Knit and Purl Stitch Patterns.
Chapter 4: Shaping.
Increase 1 Stitch.
Increase Multiple Stitches.
Decrease 1 Stitch.
Decrease Multiple Stitches.
Shape with Short-Rowing.
Chapter 5: Correcting Mistakes.
Correct Twisted Stitches.
Correct Incomplete Stitches.
Pick Up Dropped Stitches.
Unravel Stitches.
Chapter 6: Learning to Read Written Instructions.
Getting to Know Gauge.
Make and Measure a Gauge Swatch.
Knitting Abbreviations and Terms.
How to Read a Knitting Pattern.
How to Read a Knitting Chart.
Chapter 7: Knitting in the Round.
Cast On with Circular Needles.
Knit Using Circular Needles.
Cast On with Double-Pointed Needles.
Knit Using Double-Pointed Needles.
Chapter 8: More Complicated Stitch Patterns: Bobbles, Knots, and Cables.
Knit with Bobbles and Knots.
Make Simple Cables.
Learn More Cable Patterns.
Combine Cables with Bobbles, Knots, and Textured Stitches.
Chapter 9: Openwork.
Learn Drop Stitch and Yarn Over Patterns.
Experiment with Eyelet Patterns.
Work with Lace Patterns.
Chapter 10: Color Knitting.
A Look at Color.
Make Horizontal Stripes.
Learn Fair Isle Knitting.
Weave Yarns in Color Knitting.
Experiment with a Few Simple Color Patterns.
Try Intarsia.
Work a Few Simple Intarsia Motifs.
Chapter 11: Finishing Techniques.
Weave In Ends.
Block Your Knitting.
Sew Seams.
Graft Seams.
How to Assemble a Sweater.
Chapter 12: Finishing Details.
Pick Up Stitches.
Button Bands, Neckbands, Plackets, and Collars.
Make Buttonholes.
Reinforce Buttonholes.
Buttons and Other Fastenings.
Sew On Buttons.
Make Pockets.
Turned Hems.
Knit In Hems.
Chapter 13: Decorative Details.
Make Pompoms.
Make Tassels.
Add Fringe.
Knit a Cord.
Make a Twisted Cord.
Decorate with Embroidery.
Crochet Edgings.
Knit Fancy Borders and Edgings.
Knit with Beads.
Chapter 14: Easy Knitting Projects.
Easy Horizontal Scarf.
Striped Baby Blanket.
Washcloth Set.
Wrist Warmers.
Tweedy Pointed Hat.
Dropped Stitch Scarf.
Striped Rib Hat.
Cozy Mittens.
Textured Pillow Cover.
Bobble Bag.
Chapter 15: Intermediate Knitting Projects.
Baby Booties.
Simple Baby Sweater.
Mini Tote Bag.
Turtleneck Sweater.
Child's Raglan Sweater with Fair Isle Details.
Women's Cropped Cardigan.
Cable Knit Headband.
Chapter 16: Pick Up Your Needles and . . ..
Knitting for Charity.
Starting a Knitting Group.
Teaching a Child to Knit.
Chapter 17: Happy Endings.
Managing Your Yarn.
Looking Again at Gauge.
Working with Swatches.
Appendix: Reference Materials.
Index.
""It's the next best thing to a knitting class.""  (Crafts 'N Things, July 2006)