Teach Yourself VISUALLY Mac OS X Tiger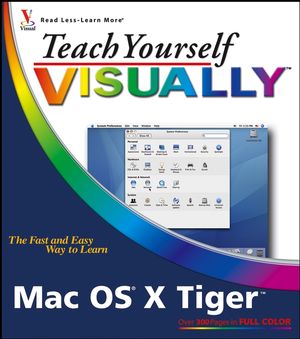 Teach Yourself VISUALLY Mac OS X Tiger
ISBN: 978-0-470-36548-9
May 2008
320 pages
Product not available for purchase
Description
Richly colored illustrations, and clear step-by-step instructions guide users new to Mac OS X Tiger through the basics of this powerful operating system. Covering all aspects of Tiger, this book shows visual learners how to work with files, customize their computers, and maximize the versatility of iLife '05 applications. Also explores how to browse the Web with Safari, manage fonts with FontBook, use iCal to track appointments, and make the switch from older Mac OS versions. Get your Tiger to roar with this easy to use reference filled with more than 100 fun and helpful tasks, presented in full color with a newly re-designed interior to make learning fast and efficient.
Chapter 1:
Mac OS X Tiger Fundamentals.
Mac OS Introduction.
Click the Mouse Once or Twice.
Control the Mac with Menus.
Work with Finder Windows.
Change Window View Options.
Understanding Applications.
Using the Dock.
Toggle Applications.
Logging In and Out.
Put Your Mac to Sleep.0
Restart or Shut Down the Mac.
Get Help.
Chapter 2: Mastering the Finder.
Find the Home Folder.
Save Time Using Contextual Menus.
Increase Productivity with the Sidebar.
Organize Your Windows.
Customize Icons.
Duplicate Files.
Delete Files.
Work Quickly with Keyboard Shortcuts.
Get Info about Files.
Create File Archives.
Chapter 3: Customizing Tiger with the System Preferences.
Change the Appearance of the Mac Interface.
Customize Your Desktop Background.
Play a Screen Saver.
Tweak the Dock.
Reveal the Keyboard Viewer.
Set Default Behaviors of CDs and DVDs.
Adjust the Display Settings.
Schedule Sleep.
Adjust the Keyboard and Mouse.
Set the Date and Time.0
Customize the Appearance of the Clock.
Make Your Mac Speak.
Control Your Mac with Voice Commands.
Chapter 4: Completing Everyday Tasks.
Add a Contact to the Address Book.
Organize Contacts.2
Print Address Labels.
Perform Common Numerical Conversions.
Calculate Currency Exchange Rates.
Find Information with Spotlight.
Track Your Schedule.
Subscribe to a Calendar.
Publish a Calendar.
Write a Report with TextEdit.
Consult a Dictionary.
Chapter 5: Working with Images.
View Images with Preview.
Export Images with Preview.
View Images with QuickTime Player.
Apply Effects to Photos in Preview.
View Images with iPhoto.
Export Images with iPhoto.
Edit Photos with iPhoto.
Catalog and Organize Your Photos.
Import Photos from a Camera.
Email a Picture Using iPhoto.
Watch a Slideshow.
Print a Picture Using iPhoto.
Chapter 6: Listening to Music.
Listen to Music with QuickTime Player.
Listen to Music in the Finder.
Listen to Music with iTunes.4
Import CD Audio in iTunes.
Organize a Music Collection.
Build a Playlist.
Create a Smart Playlist.
Burn a Music CD.
Print a CD Case Insert.
Share Music on the Network.
Adjust the Sound Quality of iTunes.
Watch Visual Effects While Listening.
Listen to Online Radio Stations.
Chapter 7: Watching and Editing Video.
Watch Movies with QuickTime Player.
Watch Movies in DVD Player.
Capture Clips from a Camcorder.
Import Video Clips.
Add Clips to the Movie Timeline.
Add Photos to the Movie Timeline.
Mix Audio in the Soundtrack.
Add Professional-Looking Titles.
Add Visual Interest to Movies with Transitions.
Add Special Effects.
Share the Movie.
Chapter 8: Harnessing the Power of the Internet.
Surf the Web with Safari.
Block Pop-up Windows.
Search Google.
Organize with Bookmarks.
Surf with Tabs.
View RSS Feeds.
Save a Web Page.
Send an Email Message.
Read Email Messages.
Work with Email Attachments.
Delete an Email Message.
Eliminate Spam from Your Inbox.
Chapter 9: Connecting to Other Machines on a Network.
Edit Network Settings.
Share Files with Macs.
Share Files with Windows Users.
Run a Web Server.
Protect Your Network with a Firewall.
Set QuickTime Network Connection Speed.
Share a Printer.
Add an iChat Buddy.
Send Instant Messages with iChat.
Send a File with iChat.
Chapter 10: Utilities.
Monitor CPU Usage.
Stop Errant Applications.
Watch Network Activity.
View System Information.
Erase and Repair Disks.
Grab a Screen Shot.
Access Dashboard Utilities.0
Manage Printing.
Issue Commands in the Terminal.
Automate Common Tasks.
Chapter 11: Connecting Peripherals to a Mac.
Make a Magic iMovie.
Copy Music to an iPod.
Save Files from an iPod in the Finder.
Print Documents.
Mount a Laptop as a Disk Drive.
Fax a Document.
Use a Microphone with iChat.
Conduct a Video Chat.
Retrieve Pictures from a Camera in the Finder.
Create a OneStep DVD.
Chapter 12: Troubleshooting Mac Problems.
Unfreeze a Frozen Application.
Update Mac OS System Software.
Disable an Update.
Uninstall an Application.
Repair Permissions.
Repair a Disk.
Change Your Password.
Employ Startup Tricks.
Stop Classic Mode.
Troubleshoot with a New User.
Fix Corrupt Preference Files.
Covering all aspects of Mac OS X Tiger, this book shows visual learners how to work with files, customize their computers, and explore the iLife applications

Explains how to browse the Web with Safari, manage fonts with FontBook, use iCal to track appointments, and make the switch to Tiger from an older Mac OS version

There are over 135 fun and essential tasks presented in 320 pages of full color!

There are currently 12 million Mac OS X users-approximately half of the Macintosh installed base