Teach Yourself VISUALLY MacBook, 3rd Edition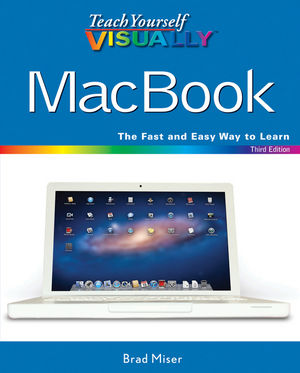 Teach Yourself VISUALLY MacBook, 3rd Edition
ISBN: 978-1-118-11291-5
Sep 2011
416 pages
Product not available for purchase
Description
Make the most of the latest features of the MacBook
The MacBook is an incredibly popular laptop choice, boasting light weight and tremendous speed. If you're a visual learner who is eager to get started with all that the MacBook has to offer, then this is the book for you! Packed with full-color photos and screen shots, this vital book walks you step by step through everything from the basics (such as powering on or shutting down the MacBook) to working with the new Mac OS X Lion operating system and its new Mission Control and Launchpad features to downloading applications with the Mac App Store to running Windows applications.
Veteran author Brad Miser escorts you through all the vitals and offers indispensable advice for troubleshooting common problems
Serves as a must-have guide for visual learners who are eager to get started using their MacBook
Covers the new Mac OS X Lion, as well as iLife '11, iTunes '10, and more
Boasts lavish photos and screen shots to offer you enhanced visual assistance while you learn the ins and outs of the MacBook
Keep this indispensible visual guide at arm's reach and get up and running with your MacBook the fast and easy way!