Teach Yourself VISUALLY MacBook Air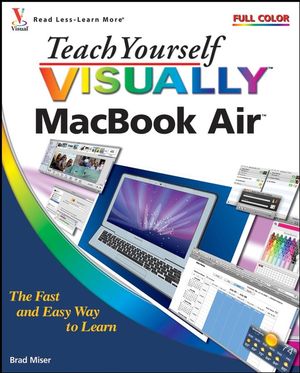 Teach Yourself VISUALLY MacBook Air
ISBN: 978-0-470-37613-3
Oct 2008
368 pages
Description
If you're a visual learner who prefers instructions that show you how to do something, then this book is for you. Its clear, step-by-step screen shots show you how to tackle more than 160 tasks with your MacBook Air. You'll learn to work with the multitouch trackpad; use the Dock, Exposé, and Spaces; get online via AirPort or Wi-Fi; sync your iPhone to your MacBook Air; manage contacts and calendars; connect to other devices; use e-mail and iChat, surf the Web; and much more. Full-color screen shots demonstrate each task.
Chapter 1: Exploring MacBook Air.
Chapter 2: Looking Through Mac OS X Finder Windows.
Chapter 3: Using the Dock, Exposé, Spaces, and the Dashboard.
Chapter 4: Working on the Mac Desktop.
Chapter 5: Working with Mac Applications.
Chapter 6: Personalizing MacBook Air.
Chapter 7: Connecting to a Network and the Internet.
Chapter 8: Traveling with MacBook Air.
Chapter 9: Connecting MacBook Air to Other Devices.
Chapter 10: Using MobileMe Online Services.
Chapter 11: Surfing the Web.
Chapter 12: E-mailing.
Chapter 13: Chatting.
Chapter 14: Managing Contacts.
Chapter 15: Managing Calendars.
Chapter 16: Printing on Paper or Electronically.
Chapter 17: Maintaining and Troubleshooting MacBook Air.
Chapter 18: Listening to Music and Watching Video with iTunes.
Chapter 19: Creating Photo Books and Other Projects with iPhoto.