Teacher Collaboration for Professional Learning: Facilitating Study, Research, and Inquiry Communities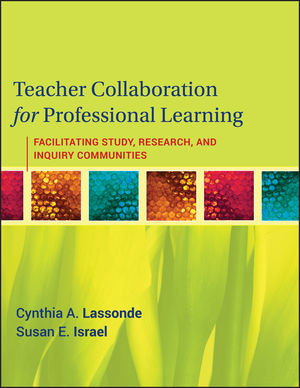 Teacher Collaboration for Professional Learning: Facilitating Study, Research, and Inquiry Communities
ISBN: 978-1-118-26944-2 January 2012 Jossey-Bass 184 Pages
Description
Teacher Collaboration for Professional Learning
contains the essential information, tools, and examples teachers and school leaders need to create, manage, and sustain successful collaborative groups. Designed to be a hands-on resource, this practical guide shows you how to:
Advocate for collaborative teacher learning
Develop and sustain collaborative research groups
Organize and conduct productive research projects
Address issues of ethics, leadership, and group dynamics
Evaluate and sustain collaborative learning activities
Based on data from a major survey,
Teacher Collaboration for Professional Learning
features extensive case examples from model research communities collaborating within schools, across districts, in partnership with universities, and as online networks. The book also offers a wealth of reproducible templates as well as reflection questions and exercises?invaluable tools for organizing study groups.
Table of contents
List of Figures, Tables, and Exhibits.
Foreword by Janice F. Almasi.
Preface.
Acknowledgments.
The Authors.
The Contributors.
PART 1 Why Support Collaborative Research?
Chapter 1 Improving Teacher Professional Learning.
Chapter 2 Initiating Educational Improvements.
PART 2 Building a Professional Learning Community.
Chapter 3 Understanding the Inquiry Process.
Chapter 4 Getting Started.
Chapter 5 Staying Productive.
PART 3 Collaborating Effectively.
Chapter 6 Ethical Considerations: Improving Group Dynamics.
Chapter 7 Leadership Strategies for Collaborative Support Groups.
PART 4 Model Learning Communities in Action.
Chapter 8 School-Based and Partnership Communities.
Chapter 9 Networking and Online Collaborations.
Chapter 10 A Districtwide Model: The Fairfax County Public Schools Teacher Researcher Network, Contributed by Gail V. Ritchie.
Epilogue: Supporting and Sustaining Professional Collaboration.
APPENDIXES.
Appendix A Tools and Templates.
Stage 1: Getting to Know Invited Members.
Brainstorming Chart: Whom to Invite to the Group.
Stage 2: Sharing Perspectives and Talents.
Tentative Agenda for Meetings.
Meeting Minutes.
Roles Signup Sheet.
Stage 3: Supporting Each Other's Efforts and Learning.
Stage 4: Exploring the Possibilities.
Ongoing Group Evaluation.
Final Reflections.
Stage 5: Ongoing Conversations.
Appendix B Reflection Questions.
Appendix C Study Group Exercises.
Appendix D Valuable Resources.
Appendix E Teacher Research Survey.
References.
Index.