Teacher-Student Relationships: Toward Personalized Education: New Directions for Youth Development, Number 137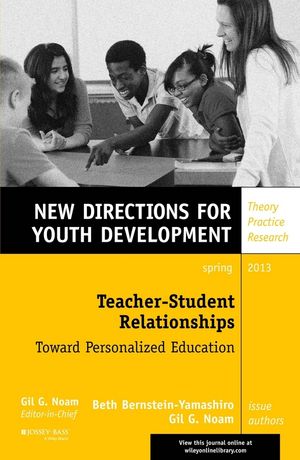 Teacher-Student Relationships: Toward Personalized Education: New Directions for Youth Development, Number 137
ISBN: 978-1-118-66066-9 May 2013 Jossey-Bass 136 Pages
Description
Explore the complexity of teacher-student relationships in secondary school settings and learn how these largely unscripted relationships function for students and teachers in their learning and socioemotional development.
For teachers, the relationships provide a foundation for pedagogical and curricular endeavors and lead to their increased investment in students' growth, development, and academic success. Students who have such relationships feel more comfortable in their learning environments, interested in the material, and motivated to perform well.
We discuss what these relationships look like from the perspectives of teacher and student. Topics include:
Drawing appropriate boundaries
School-provided guidelines and guidance
Formats for supporting teachers
A whole school approach to working on students' emotional challenges
Relationships in after-school programs.
The voices of teachers and students in this volume show how much young people want to feel known and engage with teachers and how much teachers feel rewarded and invigorated by taking the step to connect with students on this level.
This is the 137th volume of New Directions for Youth Development, the Jossey-Bass quarterly report series dedicated to bringing together everyone concerned with helping young people, including scholars, practitioners, and people from different disciplines and professions.
Issue Authors' Notes
1 Beth Bernstein-Yamashiro, Gil G. Noam
Executive Summary 11
1. Teacher-student relationships: A growing field of study 15
This article reviews historical and current research in the field of teacherstudent relationships by examining work on student risk factors, school dropout, and teacher burnout to contextualize the study presented in this volume.
2. Relationships, learning, and development: A student perspective 27
This article presents the perspectives of students regarding how they see close, positive relationships with teachers who support their academic and socioemotional success.
3. Learning together: Teaching, relationships, and teachers' work 45
This article provides an understanding of how teachers see their personal relationships with students and the complexities of sustaining relationships while operating within the school.
4. Youth development practitioners and their relationships in schools and after-school programs 57
In this article, a perspective from the world of after-school programs is explored with attention to how after-school environments can be ripe areas for personal relationships.
5. Establishing and maintaining boundaries in teacher-student relationships 69
The challenge and importance of creating emotional boundaries in relationships with students is discussed, along with perspectives from students and teachers about how they see the relationships being defined.
6. The role of a student support system and the clinical consultant 85
This article posits models for responding to students' socioemotional concerns at school and explores the needs that adult caregivers require to adequately serve students.
7. Working with teachers to develop healthy relationships with students 99
This article presents a training module designed to help administrators work with teachers to define their boundaries and relationships with students.
8. A dialogue between an educator and psychologist 109
A personal dialogue between the authors reveals their experiences with teacher-student relationships; they comment as well on how psychology might contribute to the educational challenges these relationships pose.
Index 125