Teaching Content Outrageously: How to Captivate All Students and Accelerate Learning, Grades 4-12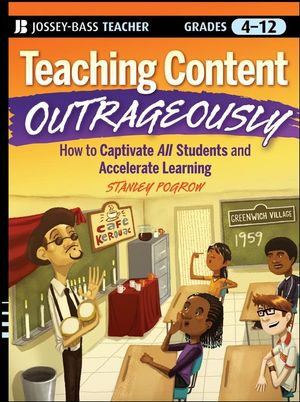 Teaching Content Outrageously: How to Captivate All Students and Accelerate Learning, Grades 4-12
ISBN: 978-0-470-62344-2 January 2010 Jossey-Bass 256 Pages
Description
A powerful instructional method for "hooking" students on academic learning

Drawing from a teaching model designed to banish boredom and student apathy, this book explains how dramatic practices can serve as powerful tools for enlivening lessons and captivating students, even the most resistant learners. Filled with intriguing classroom examples, Pogrow shows how any teacher can make use of dramatic techniques, such as surprise, humor, fantasy, role plays, games, and simulations to create standards-based content lessons that are riveting, effective, and meaningful. The author explains how to design such lessons into any content area.

Stanley Pogrow (San Francisco, CA), a noted authority on teaching practices for disadvantaged students, is professor of educational leadership at San Francisco State University, where he coordinates the Educational Leadership for Equity Program.
About This Book
About the Author
Dedication.
Acknowledgments.
1. Why Teach Outrageously in All the Content Areas?
2. Perspectives on Dramatizing Content Instruction.
3. From Discipline to Outrageous Teaching: Classroom Use of Dramatic Techniques.
4. How to Design Outrageous Lessons: Essential Steps.
5. Outrageous Lessons: Examples from the Classroom.
6. Suspense and Surprise: Why Outrageous Lessons Work.
7. Getting Started.
8. So . . . Let's Do It!
Appendix A: The Origins of Drama.
Appendix B: Games and Quizzes-Selected Resources.
Appendix C: Simulation Units-Selected Resources.
Appendix D: Lesson Plans for the Sample Lessons.
Appendix E: Teaching Outrageously in the Early Grades.
References.
--Author is respected educator noted for developing the HOTS (Higher Order Thinking Skills) program, a research-based intervention model for accelerating the learning of underachieving Title I and learning disabled students. Model has been adopted in 1200 schools nationwide. Book is based on teaching practices using this model.
--Shows teachers how to use dramatic methods to make standards-based content lessons more dynamic, exciting, effective--and entertaining! Excellent for instilling classroom discipline and perfect for teaching the YouTube generation.
--Provides extensive lesson-planning tips, tools, and resources, plus theory and research in support of the method.
--Richly illustrated with teachers using the method in real life classrooms.