Teaching Content Reading and Writing, 5th Edition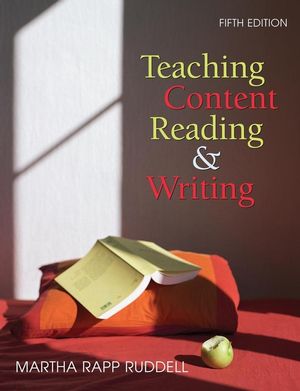 Teaching Content Reading and Writing, 5th Edition
ISBN: 978-0-470-08404-5 March 2007 494 Pages
Description
The text highlights issues of comprehension, vocabulary development, assessment, and second language. In addition, it addresses issues of diversity and ELL students, approaches for sheltered instruction, and the integration of technology into secondary learning and teaching, as well as lifelong reading/writing, using literature in content learning, and teacher professional development. 

For video clips of teachers using the strategies discussed in this text in actual classroom situations please click on the following url: http://www3.interscience.wiley.com:8100/legacy/college/ruddell/0470084049/comp_videos/index.html
CHAPTER 1: Literacy in Middle and Secondary Schools.
CHAPTER 2: Literacy and Language Processes: Thinking, Reading, and Writing in First and Second Languages.
CHAPTER 3: Evaluating Instructional Materials.
CHAPTER 4: Comprehension Instruction in Content Areas.
CHAPTER 5: Vocabulary Learning in Content Areas.
CHAPTER 6: Teaching Bilingual/Bicultural Students in Multilingual/ Multicultural Settings.
CHAPTER 7: Reading Across the Curriculum.
CHAPTER 8:  Writing Across The Curriculum.
CHAPTER 9: Assessment of Student Progress in Subject Area Reading and Writing.
CHAPTER 10: Diversity in the Classroom: Meeting the Needs of All Students.
CHAPTER 11: Content Learning, Collaboration, and Literacy.
CHAPTER 12: Developing Lifelong Readers and Writers.
Index.
Thoroughly updated with emphasis on current and future realities of adolescent lives, secondary education, and academic trends.

Centerpiece Lesson Plans - at the beginning of each chapter, incorporate 1-3 instructional strategies featured in that particular chapter.

Increased focus on strategic readers and writers.

Increased coverage of standards-based instruction and assessment.

Increased coverage of gender issues and students with special needs.

Videotaped vignettes.
Technology is integrated throughout the chapters along with well-established websites for reference and WebQuests as important project-based instructional strategies. 

 Increased coverage of sheltered instruction includes ways to meet the needs of ELL students while at the same time meeting the needs of other students.

Demonstration lesson plans relate to many different content areas.

Double Entry Journal features ask students to think about what they know about the chapter topic before they read the material, and then go back to their notes and add, revise, or amend after reading.

Classroom and School Scenarios begin each chapter, while What This Chapter Means to You sections at the end of the chapter link directly to the opening scenario. This provides the student with one more way to link the material to real and/or vicarious experience. 

What Goes In My Portfolio suggestions at the end of each chapter help students who may have to create a program or course portfolio.