Teaching Kids to Spell For Dummies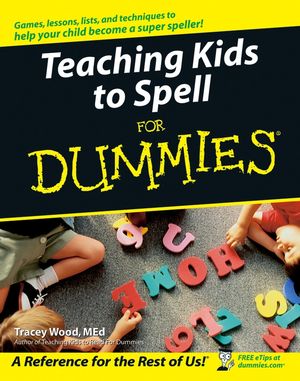 Teaching Kids to Spell For Dummies
ISBN: 978-0-764-57624-9 March 2005 388 Pages
Description
Filled with enjoyable spelling activities and exercises

The fun and easy way? to help your K-5th grader become an A+ speller

If you want to make spelling easier for your child or boost spelling skills and confidence, you've come to the right place. Veteran reading specialist Tracey Wood gives you tips, games, exercises, word lists, and memory aids to help your child build solid spelling know-how. Her techniques are fun, fast, and effective, and best of all, they're not boring!

Discover how to
* Mix spelling practice with reading and writing
* Spell short and long vowel words
* Make spelling easier with word families
* Gain insight into "sight" words
* Break spelling into syllable chunks
Table of contents
Introduction.
Part I: Understanding the Basics of Good Spelling.
Chapter 1: Thinking Like a Spelling Teacher.
Chapter 2: Understanding the Reading, Writing, and Spelling Mix.
Chapter 3: Getting to Know the Pieces and Parts of Spelling.
Part II: Getting Easy Words onto Paper.
Chapter 4: Spelling with Short Vowels.
Chapter 5: Blending Letters Together.
Chapter 6: Choosing ch (and sh, th, ph, and wh, too).
Part III: Coming to Grips with Long Vowel Sounds.
Chapter 7: Putting a Firm Pen on Bossy e.
Chapter 8: Taking Charge of Words with Two Vowels Together.
Chapter 9: Writing y Instead of a, e, or i.
Part IV: Using Word Families.
Chapter 10: Getting Into Word Family Mode.
Chapter 11: Guiding Her Pen to Bigger Word Families.
Chapter 12: Spelling Sight Words: A Different Family.
Chapter 13: Being Vocal about Silent Letters.
Chapter 14: Spelling Some Letters "Softly".
Part V: Spelling Words in Chunks.
Chapter 15: Cheerfully Chunking Sounds.
Chapter 16: Finishing Off with Suffixes.
Chapter 17: Spotting What's in a Contraction.
Part VI: The Part of Tens.
Chapter 18: Ten Word Families.
Chapter 19: Ten Ways to Correct Your Child's Spelling.
Chapter 20: Ten (or More) Group Activities That Rock.
Chapter 21: Ten Spelling Games for Car Trips.
Index.