Teaching Lab Science Courses Online: Resources for Best Practices, Tools, and Technology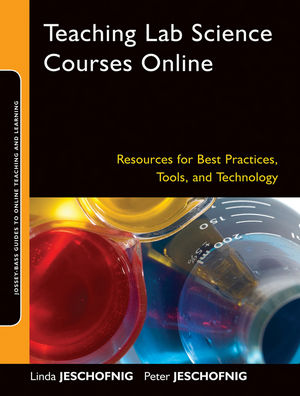 Teaching Lab Science Courses Online: Resources for Best Practices, Tools, and Technology
ISBN: 978-0-470-60704-6
Mar 2011, Jossey-Bass
208 pages
Product not available for purchase
Description
Teaching Lab Science Courses Online is a practical resource for educators developing and teaching fully online lab science courses. First, it provides guidance for using learning management systems and other web 2.0 technologies such as video presentations, discussion boards, Google apps, Skype, video/web conferencing, and social media networking. Moreover, it offers advice for giving students the hands-on "wet laboratory" experience they need to learn science effectively, including the implications of implementing various lab experiences such as computer simulations, kitchen labs, and commercially assembled at-home lab kits. Finally, the book reveals how to get administrative and faculty buy-in for teaching science online and shows how to negotiate internal politics and assess the budget implications of online science instruction.
Preface.
The Need for Online Science.
The Purpose of This Book.
The Organization of This Book.
Acknowledgments.
About the Authors.
1. Why Teach Science Online?
Science Is Integrative.
Science Teaches Problem-Solving Skills.
Science Needs to Be Learned by Doing.
Why Science Is Not Often Taught Online: It's the Lab Component!
Why Science Experimentation Is Important.
Change Is Hard.
Moving Labs Off Campus.
Learning With Off-Campus Labs.
If Education's Future Is Online, Lab Sciences Must Be Taught Online!
Perhaps Campuses Are Passé.
2. Teaching Science: Online Versus Face to Face.
I Can't See You.
Online Communication Is Different.
Online Communication Is Delayed.
Online Communication Is Meaningful.
Where Is the Lab?
Technology Makes It Possible.
Overcoming Obstacles to Teaching Science Online.
3. Specific Tools and Software for Teaching Online Science.
Learning Management Systems.
Video-Conferencing Tools.
Wikis.
Academic Integrity Tools.
Social-Networking Tools.
Science-Specific Tools.
4. Online Science Lab Options: Pros, Cons, and Effectiveness.
The Objectives of Science Laboratory Experiences.
Traditional Campus Labs.
Simulations and Virtual Labs.
Remote Access Labs.
Hybrid Labs.
Kitchen Science Labs.
Instructor-Assembled Labs.
Commercially Assembled Lab Kits.
5. The Art of Teaching an Online Science Course.
Start With a Comprehensive Syllabus.
Interactive Presentations.
Online Discussion Boards.
6. Promoting Academic Integrity in Online Science Courses.
Set the Stage for Academic Integrity.
Tools to Prevent or Reduce Cheating.
Eliminate the Necessity for Dishonesty.
Minimize and Detect Cheating on Lab Work and Lab Reports.
Student Tracking Data.
7. The Art of Incorporating Online Lab Assignments.
How Many Experiments to Perform.
Using Computer Simulations with Online Science Courses.
Using Kitchen Labs and Instructor-Assembled Kits with Online Science Courses.
Using Commercial Lab Kits with Online Science Courses.
Incorporating Lab Experiments and Lab Reports into the Online Course.
8. The Evidence Supporting Off-Campus Science Labs.
Online Science Success at Ocean County College, Toms River, NJ.
Online Science Success at Colorado Mountain College.
Online Science Success at Herkimer County Community College, NY.
9. Online Teaching Advice from the Pros.
Anatomy and Physiology Professor Dr. Laszlo Vass.
Chemistry Professors Dr. Paul Vorndam and Dr. Peter Jeschofnig.
Microbiology and A & P Professor Dr. Cindy Jones.
Physics Professor Rusty Roe.
Biology Professor Kate Lormand.
Geology Professor Trina Riegel.
Biology Professor Marge Vorndam.
10. The Tipping Point for Online Science Is Now!
Appendix: A Case Study from Start to Finish: The Why and How of Placing Microbiology Completely Online at Ocean County College.
Dr. James Brown.
References.