Teaching Shakespeare: Passing It On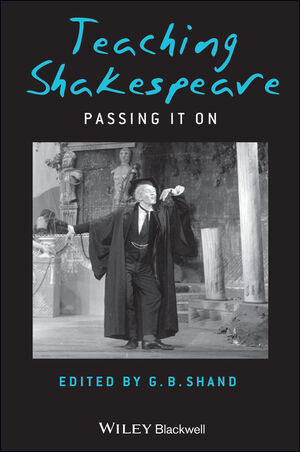 Teaching Shakespeare: Passing It On
ISBN: 978-1-444-30319-3 February 2009 Wiley-Blackwell 256 Pages
Description
This contemplative anthology offers personal essays by noted scholars on a range of topics related to the teaching of Shakespeare. Ideal for the graduate student, it addresses many of the primary concerns and rewards of the discipline, drawing on the variety of special skills, interests, and experiences brought to the classroom by the volume's distinguished contributors.
Offers insight into the classroom practices, special skills, interests, and experiences of some of the most distinguished Shakespearean scholars in the field
Features essayists who reflect on the experience of teaching Shakespeare at university level; how they approach the subject and why they think it is important to teach
Provides anecdotal and practical advice for any reader interested in teaching the works of Shakespeare
Engagingly candid
Table of contents
Notes on Contributors.
Acknowledgments.
Introduction: Passing it On (Skip Shand, Glendon College, York University).
Part I: Mentoring.
1 Teaching Shakespeare, Mentoring Shakespeareans (Jean E. Howard, Columbia University).
Part II: Text.
2 Planned Obsolescence or Working at the Words (Russ McDonald, Goldsmiths College, University of London).
3 The Words: Teacher as Editor, Editor as Teacher (David Bevington, University of Chicago).
4 Questions That Have No Answers (Alexander Leggatt, University of Toronto).
Part III: Text and Performance.
5 Teaching the Script (Anthony B. Dawson, University of British Columbia).
6 A Test of Character (Miriam Gilbert, University of Iowa).
7 The Last Shakespeare Picture Show or Going to the Barricades (Barbara Hodgdon, University of Michigan).
Part IV: Contexts (Institutional, Cultural, Historical).
8 Dancing and Thinking: Teaching "Shakespeare" in the Twenty-First Century (Kate McLuskie, Director, Shakespeare Institute).
9 Communicating Differences: Gender, Feminism, and Queer Studies in the Changing Shakespeare Curriculum (Ramona Wray, Queen's University, Belfast).
10 Teaching Shakespeare and Race in the New Empire (Ania Loomba, University of Pennsylvania).
11 Learning to Listen: Shakespeare and Contexts (Frances E. Dolan, University of California, Davis).
12 Divided by a Common Bard? Learning and Teaching Shakespeare in the UK and USA (Richard Dutton, Ohio State University).
Part V: And in Conclusion....
13 Playing Hercules or Laboring in My Vocation (Carol Chillington Rutter, University of Warwick).
Index.
Reviews
"The focus of this often inspiring book is the teaching of Shakespeare at uni­versity level. It had never occurred to me that anything as sophisticated as a pedagogy might actually underpin university teaching." (Early Theatre, 2010)


Features


Offers insight into the classroom practices, special skills, interests, and experiences of some of the most distinguished Shakespearean scholars in the field


Features essayists who reflect on the experience of teaching Shakespeare at university level; how they approach the subject and why they think it is important to teach


Provides anecdotal and practical advice for any reader interested in teaching the works of Shakespeare


Engagingly candid