Teaching and Learning: The Essential Readings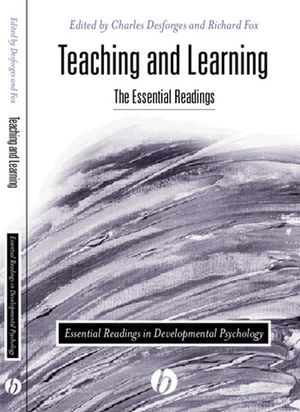 Teaching and Learning: The Essential Readings
ISBN: 978-0-470-77978-1 April 2008 Wiley-Blackwell 288 Pages
Description
This is the first collection of key articles on the psychology behind educational attainment. It brings together in one volume for students a set of accessible but influential papers, representing the best classic and cutting edge work in the field.
Table of contents
Part I Learning.
1. Attaining Excellence Through Deliberate Practice: Insights from the Study of Expert Performance. (K. A. Ericsson).
2. Rhyme, Language and Children's Readering. (P. Bryant, M. Maclean and L. Bradley).
3. The Rebirth of Children's Learning. (R. Siegler).
4. Candy Selling and Math Learning. (G. B. Saxe).
5. Understanding Academic Performance at University. (N. J. Entwistle).
Part II Teaching.
6. On Becoming a Tutor: Toward an Ontogenetic Model. (D. Wood, H. Wood, S. Ainsworth and C. O'Malley).
7. Teacher Expectation: Implications for School Improvement. (C. Rogers).
8. An Exploration of Long-Term Far-Transfer Effects Following an Extended Intervention Program in the High School Science Curriculum. (P. Adey and M. Shayer).
9. Reconstructing Context: the Conventionalization of Classroom Knowledge. (D. Edwards and N. Mercer).
10. The Role of Assessment in a Learning Culture. (L. A. Shepard).
Index.
Reviews
"a collection of interesting, albeit idiosyncratic, readings ... the book touches most of the important bases" Guy Claxton, University of Bristol Graduate School of Education, Cambridge Journal of Education, Vol. 33, No. 2, 2003
Features
* First collection of essential readings on the psychology behind educational attainment.
* Includes sufficient editorial material to help students gain an overview of the subject.

* Offers an ideal starting point for the exploration of key topics in educational attainment.