Teaching and Learning in Changing Times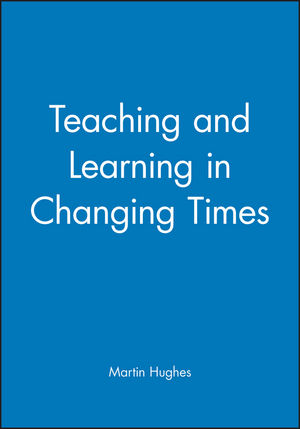 Teaching and Learning in Changing Times
ISBN: 978-0-631-19278-7 January 1996 Wiley-Blackwell 230 Pages
Description
The last few years have seen unprecedented changes in schools in England and Wales, as the government attempts to raise standards by a radical programme of educational reforms.

This book reports the outcome of a major research programme - funded by the Economic and Social Research Council (ESRC) - on teaching and learning in the context of the current reforms. Written by some of the country's leading educational researchers, the book covers a wide range of ages and curriculum areas. It provides much needed insight into the nature of teaching and learning, as well as practical advice for teachers, policy makers and parents.
List of Contributors.
Acknowledgements.
Introduction: Martin Hughes.
1. Where Does All the Time Go? Changes in Pupils'Experience in Year 2 Classrooms: Ian Plewis and Marijcke Veltman.
2. Parents, Teachers and the Assessment of 7-year-olds: Charles Desforges, Cathie Holden and Martin Hughes.
3. Political Contexts and School Careers: Susan Harris, Jean Rudduck and Gwen Wallace.
4. Competing Conceptions of Quality in Social Education: Learning from the Experience of the Cross-curricular Themes: Geoff Whitty, Peter Aggleton and Gabriellee Rowe.
5. 'Grammar', 'Language' and Classroom Practice: Christopher Brumfit, Rosamund Mitchell and Janet Hooper.
6. The Importance of Power-Sharing in Classroom Learning: Paul Cooper and Donald McIntyre.
7. Teaching and Learning in the Preschool Period: Penny Munn and Rudolph Schaffer.
8. Progression in Learning-Issues and Evidence in Mathematics and Science: Paul Black, Margaret Brown, Shirley Simon and Ezra Blondel.
9. Evidence in Science Education: Sandra Duggan, Richard Gott, Fred Lubben and Robin Millar.
10. 'There were no facts in those days': Children's Ideas about Historical Explanation: Peter Lee, Alaric Dickinson and Rosalyn Ashby.
Conclusions: Martin Hughes.
References.
Index.
"In focusing firmly on classroom practice, the contributors have enabled the oices of both teachers and children to come through clearly. Their research covers a wide range of ages and subjects, and is reported with the vigour and clarity appropriate to the wide public interest in the questions sthey seek to answer." Professor A. D. Edwards, University of Newcastle
*Important overview of recent educational reforms discussed in light of thorough empirical research.
*Raises critical questions as to how the reforms encourage or inhibit effective teaching and learning.