Teaching as Community Property: Essays on Higher Education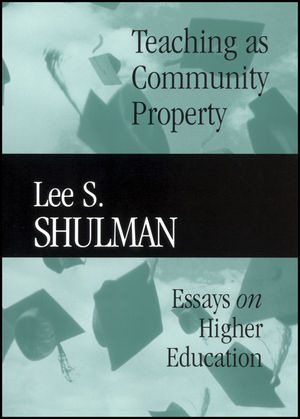 Teaching as Community Property: Essays on Higher Education
ISBN: 978-0-470-62308-4
Mar 2004, Jossey-Bass
272 pages
Description
For almost two decades, acclaimed education scholar and current president of The Carnegie Foundation for the Advancement of Teaching, Lee S. Shulman has been bringing uncommon wit, passion, and vision to issues of teaching and learning in higher education. Teaching as Community Property brings together a brilliant collection of Shulman's papers and presentations since 1987, giving readers a unique window into his ideas and proposals for the improvement of teaching and learning in higher education. What emerges is a vision of Shulman's overarching agenda--to improve the quality of teaching for all students by making teaching a more respected dimension of all the disciplines and professional fields.
Sources.
About the Author.
Acknowledgments.
Foreword (Pat Hutchings).
Introduction (Russell Edgerton).
PART ONE: Learning.
1. Professing the Liberal Arts.
2. Taking Learning Seriously.
3. Problem-Based Learning: The Pedagogies of Uncertainty.
4. Making Differences: A Table of Learning.
PART TWO: The Profession of Teaching.
5. Knowledge and Teaching: Foundations of the New Reform.
6. Learning to Teach.
7. Toward a Pedagogy of Substance.
8. Teaching as Community Property: Putting an End to Pedagogical Solitude.
9. The Scholarship of Teaching: New Elaborations, New Developments.
10. From Minsk to Pinsk: Why a Scholarship of Teaching and Learning?
11. Lamarck's Revenge: Teaching Among the Scholarships.
PART THREE: Practices and Policies.
12. From Idea to Prototype: Three Exercises in the Peer Review of Teaching.
13. The Pedagogical Colloquium: Three Models.
14. Course Anatomy: The Dissection and Analysis of Knowledge Through Teaching.
15. Visions of the Possible: Models for Campus Support of the Scholarship of Teaching and Learning.
16. The Doctoral Imperative: Examining the Ends of Erudition.
Index.