Teaching in America: A Guide for International Faculty and What Students Want: Teaching from a Student's Perspective, The Derek Bok Center Series On College Teaching, Disc 3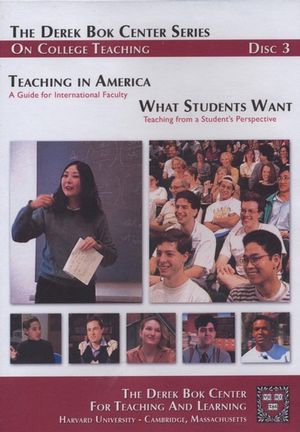 Teaching in America: A Guide for International Faculty and What Students Want: Teaching from a Student's Perspective, The Derek Bok Center Series On College Teaching, Disc 3
ISBN: 978-0-470-18016-7
Apr 2007, Jossey-Bass
Description
Teaching in America can be difficult for anyone. But what problems confront international faculty when they first teach in the United States? For many, the greatest challenge is not the English language, but understanding the expectations of American students and the culture of the American college classroom.

Teaching in America offers insights and encouragement from more than 20 international faculty members and teaching assistants at harvard University—all with experience teaching American undergraduates. The interviews and classroom sessions portrayed cover topics such as breaking down cultural barriers, preparing for class, dealing with language problems, keeping class discussions lively, and responding to student concerns.

Most internal faculty members agree that teaching American students brings great satisfaction once initial difficulties have been overcome. The goal of Teaching in America is to speed up the process of feeling at home in the American classroom by offering advice and inspiration from those who have successfully met this challenge.

Teachers often make assumption about what motivates, excites or frustrates their students. Nut how do students themselves view teaching? What do they find exciting or frustrating in the classroom? How do they learn best, and what role do they think faculty can play in the process?

To help answer these questions, the Derek Bok Center for Teaching and learning interviewed over 40 harvard University undergraduates from different background. What Students Want presents their spontaneous, unscripted comments on many aspects of academic life, including their preferred styles of lecturing and discussion leading; amount and organization of workloads; relations among students, professors and teaching assistants; personal issues of identity, race, and gender; and their own definitions of good and bad teaching.