Teaching in Inclusive School Communities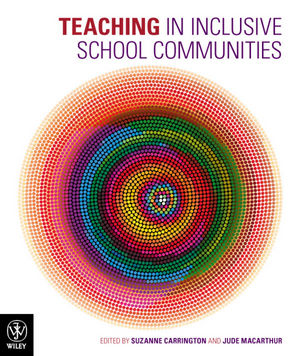 Teaching in Inclusive School Communities
ISBN: 978-0-730-30217-9
Nov 2012
392 pages
Product not available for purchase
Description
Teaching in Inclusive School Communities, 1st Edition is the essential resource to provide pre-service teachers with the most contemporary, ethical and useful framework for incorporating diversity and inclusive practices in today's classroom. Fourteen concise chapters compose a focused picture of the values and beliefs that inform the inclusive education approach, with the most up-to-date connections to curriculum and pedagogy throughout.

Complemented by the latest research in the field, this text provides the practical knowledge and skills needed for inclusive classroom teaching in Australia and New Zealand, as well as a thorough analysis of exactly what is required to build respectful relationships in modern school communities.
Preface ix
About the editors xi
Acknowledgements xii
PART 1 INTRODUCTION TO INCLUSIVE EDUCATION 1
CHAPTER 1 Towards an inclusive education for all 3
Understanding inclusion 5
Schooling as an apprenticeship in democracy 6
Changing systems of schooling 6
Values 7
Theoretical framework for inclusive education 8
Preparing teachers to work in inclusive schools 10
Theoretical perspectives on supporting teachers to work in inclusive schools 13
Inclusive education in Australia and New Zealand 15
Inclusive education in Australia 16
Inclusive education in Aotearoa New Zealand 19
Supporting teachers to work in inclusive schoolsin Australia and New Zealand 21
How schools can include and exclude 23
Understanding exclusion 24
Moving to inclusion 25
The complexities of inclusion 26
Inclusion in action 29
Conclusion 31
Points for discussion 32
References 32
CHAPTER 2 The social and political underpinnings of the inclusive education movement 39
Social movements for social justice in education 41
International social movements 42
Australian social movements and inclusive education 43
New Zealand social movements and inclusive education 45
Social movements, policies, practices and inclusive education 47
Inclusion at the local level of practice 49
Challenges and barriers 50
Policy level challenges and barriers 50
Inclusion policy at the local or the school level 52
Opportunities and alliances 54
One local alliance taking and making
opportunities 55
Inclusion in action 58
Conclusion 59
Points for discussion 60
References 60
CHAPTER 3 Inclusion and social justice: teachers as agents of change 65
Ideas, theory, power and practice 67
Ideas and practice 67
Ideas and relationships 67
Exploring complex ideas 68
Inclusive and exclusive ideas 68
The neo-liberal idea and its implications 69
The ideas of special and inclusive education 70
Social justice 71
The individual and the social good 72
Justice and our relationships with others 73
Critical thinking about justice and inclusion 73
Critical thinking about inclusion and education 75
Critical thinking about the language of ideas 75
Critical thinking about culture 76
Inclusion in action 77
Teachers as agents of change 79
The politics of teaching 79
Supporting and opposing human rights 80
Including, or excluding, ourselves 82
Conclusion 82
Key points for discussion 83
References 84
CHAPTER 4 Ethics in inclusive education 89
Three different ways to approach ethics 91
The rules/principles approach 92
The character/structure approach 93
The beliefs/ideals approach 94
What day-to-day ethical dilemmas do teachers encounter? 95
Exploring ethical issues through cases 96
Ethical conduct for teachers in New Zealand and Australia 98
Normative rules and frameworks 99
Compliance and accountability codes in Australia and New Zealand 100
Making ethical decisions in context 101
The stench test (rule-based reasoning) 102
The mum 'moral exemplar' test (care-based reasoning) 102
The front-page news test (ends-based reasoning) 102
Practical strategies to support ethical decision making 102
Inclusion in action 103
Toward an ethic of inclusive education 104
Teaching and learning repertoire 105
Education policy and regulation 106
Ethical knowledge 106
Promoting an ethic of inclusive education 107
Conclusion 110
Key points for discussion 110
References 111
Connections to practice 113
PART 2 INCLUSIVE SCHOOL COMMUNITIES 115
CHAPTER 5 Education in city and suburban communities 117
The influence of place on learning 119
Shifting educational priorities 120
Living in a culturally diverse society 121
Diversity in schools 123
Issues of engagement and disengagement 125
Differentiated instruction for diverse students 127
Creative thinking and imagination 129
Creative imagination that engages students with schooling 130
A pedagogy of hope 132
Inclusion in action 133
Conclusion 134
Points for discussion 135
References 136
CHAPTER 6 Indigenous education in Australia 139
Indigenous Australian education policy 141
The importance of history today 143
The evolution of Indigenous Australian education 145
Influences on contemporary understandings and teaching practices in Indigenous Australian education 146
Asking different questions about difference 148
Your standpoint and classroom practice 150
Cultural difference and the classroom 152
Community engagement 155
Inclusion in action 157
Conclusion 158
Points for discussion 159
References 160
CHAPTER 7 Inclusive education and Maori communities in Aotearoa New Zealand 163
Maori educational disparity: a legacy of events 165
Responses to the diversity challenge 166
Culturally responsive pedagogy 169
The Educultural Wheel framework 170
Manaakitanga 171
Whanaungatanga (relationships) 173
Rangatiratanga (self-determination) 174
Kotahitanga (unity and bonding) 175
Pumanawatanga (a beating heart) 176
Reflective analysis and culturally responsive practice 176
Inclusion in action 178
Conclusion 180
Points for discussion 181
References 181
Connections to practice 185
PART 3 DEVELOPING POSITIVE
IDENTITIES: LANGUAGE, BELIEFS, VALUES
AND RELATIONSHIPS 187
CHAPTER 8 Naming or creating a problem?
The mis/use of labels in schools 189
The 'dilemma of difference?' 190
From educating difference to a different education system 193
Words that cement the margins 194
Watching our language … 196
Speaking inclusion into action 198
Respecting difference 200
Listening and learning from others 201
Inclusion in action 203
Conclusion 205
Points for discussion 206
References 206
CHAPTER 9 Developing relationships that
support learning and participation 209
Understanding 'partnership' and 'collaboration' 211
Inclusive partnerships as relational, ethical and critical 211
The impacts of neo-liberal and managerial discourses in education on 'partnership' 211
Inclusive partnerships and power 212
Collaborative partnerships and relational pedagogies 213
Partnership, collaboration and hope 214
Building authentic collaborative partnerships 214
The process of collaboration 216
Developing collegial teams and partnerships 217
Building a positive classroom climate and
supportive peer networks 222
Developing collegial teams and authentic
collaborative partnerships to support students
with disabilities 224
Family — professional contexts 224
Family 'choice' 224
Planning as a collaborative partnership 226
Inclusion in action 230
Conclusion 232
Points for discussion 233
References 233
CHAPTER 10 Children's and young
people's social participation 237
Theory informing teacher understanding and action 239
Positivist paradigms 239
Social theories of knowledge 240
The importance of social participation at school 241
Guidance and enrichment through friendships 241
Links between social participation and learning 242
The social experiences of marginalised students at school 242
Lacking friends and feeling different 243
Social participation and being present 244
Structures that separate students 246
Participation through recognition 248
Bullying and harassment 249
Identities and social relationships 251
Teaching to enhance social participation 253
The curriculum as a foundation for supporting students' social experiences 253
School cultures that support social participation for all 254
Listening to student perspectives and observing student interactions 256
Developing classroom contexts that support students' social participation 257
Inclusion in action 259
Conclusion 260
Points for discussion 261
References 262
Connections to practice 265
PART 4 THE PRACTICAL SKILLS OF WORKING
IN INCLUSIVE SCHOOLS 267
CHAPTER 11 Curriculum, assessment, teaching and learning for all 269
A culture of learning 271
Curriculum 272
Pedagogy 274
Productive pedagogies 275
Assessment 276
A culture of belonging 278
Identities 280
Student voice 282
Partnerships 283
Planning for learning 285
The Exemplars project 286
Inclusion in action 288
Conclusion 290
Points for discussion 290
References 291
CHAPTER 12 Interprofessional learning and
its contribution to inclusive education 295
Interprofessional learning 297
Interprofessional education 297
Interprofessional practice 298
Interprofessional learning 299
Competencies required for successful interprofessional learning 300
Values and ethics 301
Roles and responsibilities 301
Communication 301
Teamwork 301
The role of culture in interprofessional learning 302
Team members are from the same culture as the student/family 303
Team members need to be culturally competent 303
What cross-cultural competence looks like 304
Cross-cultural competence and teaching approaches 305
The contribution of interprofessional learning to inclusive education goals 305
The teacher as a team member 306
Reducing exclusion through interprofessional practice 307
Changing the system to support interprofessional practice 308
Inclusion in action 308
Conclusion 310
Points for discussion 310
References 311
CHAPTER 13 The relational role of teacher aides
in supporting students and teachers 313
Understanding the context of teacher aides' work 315
Solution to inclusion? 315
Potential for helping or harming 317
Understanding teacher aides' relationships with students 318
Coming to know in relational ways 319
Facilitating relationships: Connecting practices 320
Distancing practices 321
A dilemma: Academic support or social acceptance? 323
What students want 325
Understanding teacher aides' relationships with teachers 326
Working collaboratively with teachers for the good of all students 327
Not my problem: 'The teacher aide does everything' 328
Understanding teacher aides' work within a framework
of relational social justice 329
Theoretical understandings of social justice 330
Teacher aides: The right solution to inclusion? 332
Implications for your practice as a teacher 333
Inclusion in action 335
Conclusion 337
Points for discussion 337
References 338
CHAPTER 14 Using the Index for Inclusion to
develop inclusive school communities 341
The Index for Inclusion 343
Index for Inclusion: International experience 345
Index for Inclusion: Culture, policy and practice 346
Using the Index for Inclusion in school contexts 349
The process 349
Working with the school community in Aotearoa
New Zealand 352
A New Zealand case study 353
Working with the school community in Australia 357
An Australian case study 358
Inclusion in action 359
Conclusion 361
Points for discussion 361
References 362
Connections to practice 365
Glossary 367
Index 371
14 chapters – specifically chosen and sequenced to reflect the diverse topics taught in a typical 12 to 13 week teaching semester.
Key Learning Points indicate where each critical chapter learning objective is covered in the body of the chapter for ease of study and navigation.
Inclusion in Action vignettes illustrate the diversity of real-life school communities and focus on the key issues of teaching in inclusive ways in a range of contexts.
Points for Discussion stimulate dialogue around the Key Learning Points for students to develop their critical thinking skills.
Connections to Practice provide students with the opportunity to make connections between the theoretical underpinnings and practical applications within the chapter. These have a strong focus on critical reflection and are perfectly suited for tutorial/group work discussion.