Teaching the Classics in the Inclusive Classroom: Reader Response Activities to Engage All Learners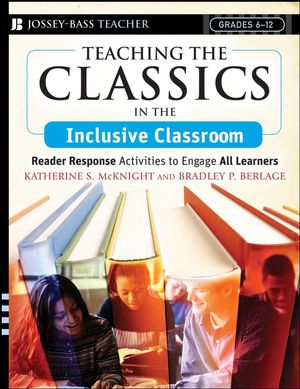 Teaching the Classics in the Inclusive Classroom: Reader Response Activities to Engage All Learners
ISBN: 978-0-787-99406-8 November 2007 Jossey-Bass 208 Pages
Description
Teaching the Classics in the Inclusive Classroom offers teachers a practical resource for helping students in grades 6-12 connect to and appreciate classic literary works. The book is filled with high-interest and engaging exercises that work with a variety of learners (with a particular emphasis on students with special needs), utilizing "pre-reading," "during reading," and "after reading" activities. Many of these exercises help to strengthen reading comprehension while other activities are specifically designed to reinforce vocabulary skills, as these apply to selected classic texts. Using these exercises and techniques to teach the classics will help your students appreciate literature and become better critical thinkers, writers, and readers.
Student Voice, Discussion and Lecture.
Preparing through Pre-Reading.
"During Reading" Activities.
"After Reading" Activities.
Writing Activities.
Vocabulary Activities.
Putting the Strategies Into Action.
Teaching Literature for the Future.
"This practical resource will work with a variety of learners." (RoundTableReviews, 03/04/08)
Shows how to help students of all ability levels personally relate to the characters, themes, and settings in the literary canon.
Offers practical techniques that have been proven to work equally well with inclusion students in urban schools and those in middle-class suburban settings.
Embraces the popular "Reader Response" method of studying literature, as well as other techniques for successful teaching of adolescent reading.
Lead author frequently presents on this topic at major national conferences